5 of The Best:

Winter Coats
When it comes to the colder months, my all time favorite shop-for item is a good winter coat. All year round you will probably find me in a blazer or leather jacket, but when the temperatures start to drop, the bad weather sets in (who am I kidding? it's bad weather all year round in the UK) and I start to feel a little frost bite on my extremities, that's when I know it's time to hit the high street and find that perfect coat that will see me through to Spring - or at least when the temperature starts to lift to a comfortable height.
So what do I look for in the perfect coat? Well, for starters it has to have a certain length so as to be worn with a variety of outfits: it can't be too long, other wise it'll just look a little silly when I wear my Adidas sneakers, but it can't be too short either, other wise it defeats it's purpose of being a winter coat - it's supposed to keep me warm! I usually find that anything around a mid thigh - above knee length will suffice. Second is the style. Obviously this changes slightly due to certain factors such as current trends, however anything double breasted with a collar high enough to stand up and keep the wind off my neck is definitely going to be a winner. I also like fitted coats, with a belted waist and deep front pockets (sewn in with a slight slant are my favorite - makes you appear slimmer I find. This is actually why I love my W116 by Walter Baker trench so much), so if I can find something like this, then I'm doing good on my quest.

I've not really done a great amount of research into a coat this year if I'm honest- other than my W116 by Walter Baker trench - however, ASOS never seem to let me down when it comes to Winter essentials, so naturally I checked there first. Right now they're doing a deal with 30% off jackets, jumpers and more AW'12 styles, plus if you're a student with either an NUS card or a UNiiDAYS account then you can get an extra 25% off on top of that: so if there was ever a time to buy that winter coat, it's now. I will be publishing another post with my top picks for winter knits later in the week, but until then 

I've

 chosen my top 5 picks from ASOS' coat selection (actually there's two from ShopBop thrown in because they caught my eye a couple of weeks ago), to hopefully inspire you when you decide on the one for you!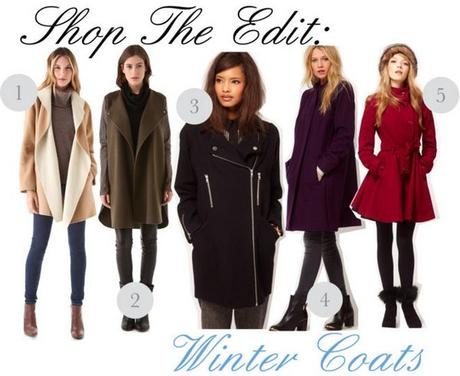 1. Joie Teyona Coat @ Shopbop - £212
2. Vince Shirttail Coat with Leather Sleeves @ Shopbop - £470.79
3. ASOS Biker Cocoon Coat @ ASOS - £70 with 30% off. RRP £100
4. ASOS Cape Coat @ ASOS - £70 with 30% off. RRP £100
5. ASOS Fit & Flare Belted Coat @ ASOS - £49
Which is your favourite?