Do you know the brand and model of your wedges? Are they one of the best golf wedges for a beginner or high-handicapper ?
When you're just getting started in the game of golf, one of the challenges is how to build your set of clubs. Do you go out and buy them all at once or do you purchase them over time? A full set can be expensive, so most golfers will take the latter approach. Buy new clubs here and there and use borrowed clubs in the meantime.
If this is your approach, where should you invest first? The common answer is, "I want a big, new driver or maybe the putter I see on TV". There is nothing sexy about buying a new wedge, but it will have a larger impact on your score than that expensive driver. Nothing saves strokes more than a great short game; chip it close and one putt. Let's look at 5 of the best golf wedges for beginners.
The Cleveland CBX 2 wedge is a game improvement club that looks and feels like something a tour professional would have in their bag. It has a hollow cavity design that provides forgiveness if you're chipping greenside or hitting a full shot from the fairway. The face is designed with Tour Zip Grooves and aggressive face milling to provide you with spin and control.

Pros:
Award winning wedge - Golf Digest 2020 Hot list Gold - one of the best golf wedges on the market.

Proven brand - Cleveland golf has been producing high quality wedges for years

Unique Offering - a rare combination - a wedge designed for the beginner that could be used by elite players as well.
Cons:
One of the most difficult shots you hit with your wedge is the bunker shot. Beginners are often petrified of the sand, but the Callaway Sure Out 2 is here is to eliminate that fear. Change your bunker game from a nightmare to a strength. Callaway has designed a sole that easily cuts through the sand and provides playability from all lies. It also has full face grooves, so no matter where you hit the ball, you will have control and spin.

Pros:
There are no shortcuts or magic wands in golf, but this wedge will improve your bunker play - one of the best golf wedges if you are learning how to hit sand shots.

Full face grooves is a nice feature - provides spin even if you strike the ball way out on the toe of the wedge.

Step Down Grip - standard grip has 3 different lines to help you consistently choke down, depending on the shot you are trying play.
Cons:
Pinemeadow provides quality golf clubs at a fraction of the price of other golf manufacturers and the PGX wedge is no exception. The wedge features a wide sole that narrows towards the toe of the club. This allows the golfer to hit a variety of shots from a variety of different lies.

Pros:
You can't beat the price - if you need a new wedge, but aren't ready to make a significant investment, give the PGX a look.

You have options - even with the lower price, you can select right-handed or left-handed and choose your loft of 52, 56, or 60 degrees.
Cons:
If you are a fan of Callaway wedges, but the Sure Out 2 shape is a bit too strange for you, the Mack Daddy 4 is the club you need to try. One of the best wedges on the market, the grooves are designed based on the loft, for maximum playability. You have the choice of 4 different sole grinds and a broad range of loft and bounce options. You can even choose the finish, picking from platinum chrome or black matte.

Pros:
Designed for all levels - the Mack Daddy 4 will be used on the PGA tour, but a beginner can also be successful with this wedge

Options, options, and more options - you have so many choices, it feels like the club is being built just for you

Great spin, great control from all lies
Cons:
The Harmonized Classic wedge is part of Wilson's "Super Game Improvement" line of clubs and it has been built with the beginner in mind. These wedges have a simple and classic look that appeal to the eye and you can choose from a high-polish finish or anti-glare black chrome. It has been designed with a sole grind that allows you to easily open the face if you need to execute a higher shot.
Your ability to play a variety of shots with your wedges has a significant impact on the score you shoot. From the bunker, chipping out of the rough, hitting a flop shot when you are short-sided, and playing a pitch shot from the fairway are all done with your wedges. Phil Mickelson once said "The only way to win tournaments is with the short game. Over half of your shots are within 30 or 40 yards....". Do you spend half of your practice time on your short game?
One of the best ways to work on your wedge game is to play a par 3 golf course . All of the holes are typically between 75 and 130 yards. You not only get to hit different wedge shots off the tee, but you will also be challenged with different types of chips and bunker shots. Unlike the driving range, you are playing holes and keeping score, so it better simulates how you feel when you play a normal course.
You only need a few clubs to play a par 3 course, so grab a Sunday golf bag which is designed for this type of activity. It will perfectly hold your wedges, putter, balls/tees, and a couple of your favorite cold beverages. It won't feel like practice, but you will quickly get better at the wedge shots that are so critical to your game.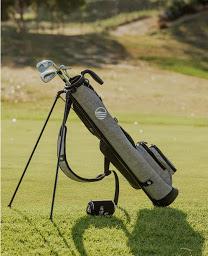 Improving your wedge play will lower your scores and increase your enjoyment on the course. Take some time to find the best golf wedges for your game and spend a few afternoons playing a par 3 course. Your short game will improve, your round will take a fraction of the time, and you will become a better golfer.
Author Bio:
My name is Ray, I'm a writer for Sunday Golf . I have played golf since I was 10 years old - enjoyed playing on my High School and College golf teams. I continue to play competitive amateur golf, but my true passion now is watching my two sons play the game. I also enjoy coaching golf and currently act as an assistant coach for our local high school team.