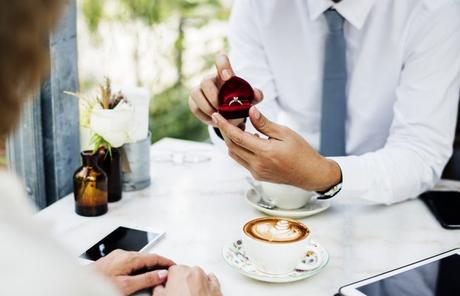 5 Movie Proposals That Will Inspire You to Pop The Question
Have you ever found yourself watching a movie and thought to yourself if only that was real life? Well, it can be. All it takes is a little action and inspiration. Here are five movie proposals that will inspire you to pop the question or even drop the hint that you're ready to commit.
Back in 2002, one late-night, on a walk to remember, Landon proposed to Jamie. He did it in order to fulfill one of Jamie's wishes. Her wish was to get married in the same church as her late grandmother. Isn't that the sweetest thing? Does it really get any more thoughtful than that? We don't think so.
It was without a doubt Robbie Hart from The Wedding Singer who made Mile-high proposals a popular thing. This movie scene is marriage proposal perfection. And it gets even more steam when the entire flight teams up to help Julia get to her true love. Watch The Wedding Singer now and get inspiration for your proposal.
Appropriate to the name of the title, Maggie (who left multiple men at the altar) decided to take matters into her own hands and get down on one knee in front for Homer. If you haven't seen it, her marriage proposal speech might just inspire you to do the same. . Get Runaway Bride here
Ah, When Harry Met Sally - a classic romantic comedy known for its iconic duo and New York scenery. But that's not all it's known for. It's also where the saying, "When you realize you want to spend the rest of your life with somebody, you want the rest of your life to start as soon as possible," came from. I mean can it get any sweeter than that? See what all the hype is about here.
Of course, we had to add the iconic proposal from the hit television show Sex & The City. If you watched the show then you know there really couldn't have been a better way for Big to propose. A walk-in closet? I mean it's perfect. It was so them. He surprised her with an apartment and a walk-in closet for all her shoes. Every girl's dream. Watch it here.
Final thoughts
What did you think of these inspirational movie proposals? Let us know!
Shopping for an expensive ring? Here are some things you need to know before you purchase. Also be sure to check out our holiday engagement ring guide here, if you're considering proposing during a special time.
Need help picking out a ring?
Not sure where to begin when it comes to picking out the perfect engagement ring? Learn more about and in our education center. If you're looking for further information Chat online, or even email one of our customer service advisers at [email protected]
Areas we serve
We are located in southern Florida in the city of Boca Raton. We proudly serve Boca Raton and the surrounding following areas: Palm Beach, Fort Lauderdale, Miami, Broward, and Miami-Dade. Stop by and talk to one of our experts about finding the perfect engagement ring today.