It has been a long winter and not a very satisfying spring. Summer is around the corner, but I really need something now to motivate me through the last week of classes before summer truly begins. I thought I would share with you some of my favorite movies with scenes and characters that motivate me depending on what's going on in my life. Hopefully they will motivate you too!
1.

When you have been working hard, but need something uplifting to look forward to…
Definitely Maybe
There is just something about the opening scene that just makes me want to get up and go. Will Hayes (Ryan Reynolds) is having a rough day at work, but while the credits roll, he is walking through the busy streets of NYC highly anticipating picking up his daughter from school listening to "Everyday People" by Sly and the Family Stone on his mp3 player. You'd be lying if you never felt great walking down a busy sidewalk or driving with your windows down listening to one of your favorite songs. This scene reminds you of moments like that.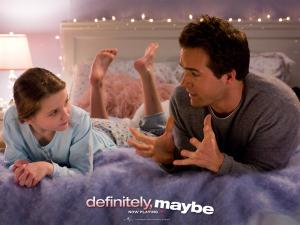 2.

When you need to let go of the past and focus on the future…
500 Days of Summer
Being a student who minored in Art History, Architecture has always enlightened me and I have always found it extremely fascinating. So when Tom (Joseph Gordon-Levitt) decides its time to get over Summer (Zooey Deschanel) and get back on his feet to follow his dreams. The song "Vagabond" by Wolfmother starts playing and you see Tom erasing a large chalkboard of old architectural ideas and starting fresh. By the end of the movie, you see a whole new city plan and a whole new Tom.
3.

When you feel like there is no such thing as second chances…
An Education
When young girl, Jenny (Carey Mulligan) regrets dropping out of high school to live her life with an older man, who has taken her on a romantic trip to Paris in the past, she confronts her teacher and admits her mistakes. The end of the film follows Jenny through her time of hard work to make up her senior year. The ending scene portrays Jenny on her bike riding around Oxford campus with another boy. She states, "One of the boys I dated, and they were boys, suggested that we go to Paris and I said I'd always wanted to see Paris. As if I'd never been!"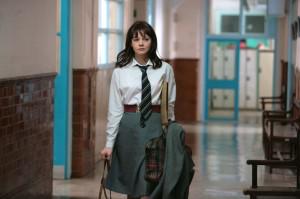 4.

When you're struggling to make the right decision…
Garden State
Sometimes we have to choose between two things and it is not always easy. At the end of Garden State, when Andrew Largeman (Zach Braff) makes the decision to move back to California and leave his new love behind, he has a sudden change in heart. I know it's cheesy, but this scene always reminds me that the best way to make a decision is to follow your heart
5.

When you feel oppressed…
He's Just Not That Into You
Sometimes we feel ashamed, embarrassed, or out of place. No matter what kind of a woman you are, we have all felt like Ginnifer Goodwin's character, Gigi Phillips, some time in our life. She is, of course, a little bit over the top when she chases after the men she wants and obsessing over an anticipated phone call. But when Gigi tells Alex (Justin Long) her way of finding love: "I may do a lot of stupid shit but I'm still a lot closer to love than you are," it makes you feel 100% stronger as a woman.
Follow this link to watch the Alex and Gigi moment.
Ready to tell your boss you deserve that raise? Or maybe even call up the ex and tell him you weren't overreacting after all? I thought so…