I had an early dinner.
And when we talk early, we're talking EARLY!
Let's just say I'm done eating, uploaded and edited all my pictures, and added all my eats into My Fitness Pal and it's only 5:33pm.
I guess my early hunger means I'm on the right track with how much I'm eating. I need to shrink my tummy a little.
Snack
I had a high-protein snack at 4:30. The hunger kicked in and I needed fuel asap.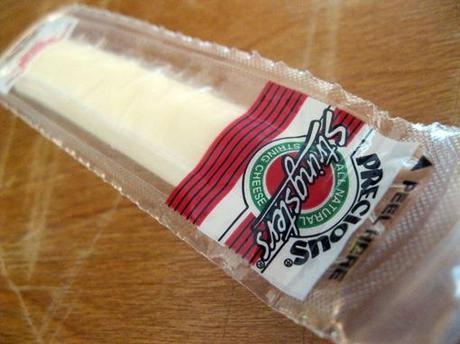 String Cheese! Love this snack. Takes me back to elementary school when my Momma packed my lunches.
Dinner
Okay, let's get serious. I needed some veggie filled dinner and I needed it about 5 minutes ago. My string cheese did NOT kick the hunger and at 5pm I gave up.
The objects of the mission were
food and
veggies
…FAST!
Here is a delicious 5 minute stir fry that I promise will fill up the tummy.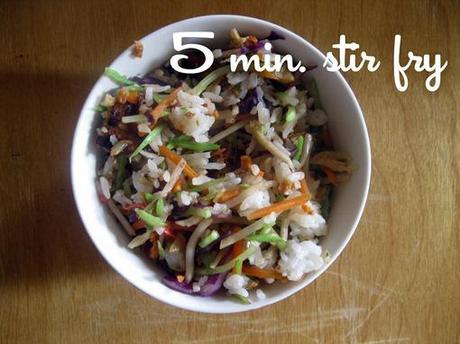 Ingredients
left over (aka pre cooked) white rice
Mann's morning mix
Morning Star Asian veggie patty
soy sauce
Directions
Pop the Asian veggie patty into the microwave to defrost. While the patty nukes, heat a skillet to medium high heat.
After the patty is defrosted throw it into the hot skillet. Break into pieces with the spatula then add between 1/2 and 3/4 of the bag of morning mix.
Stir fry the morning mix with the veggie patty pieces and add about 1 TBSP soy sauce. Heat until the veggies are warm, about 2-3 minutes.
Add about a cup white rice to the mix. Continue to stir fry for another minute just to warm the rice.
Spoon into a bowl and enjoy. I topped mine with a some red pepper flakes for some kick.

I ate the whole mixture and it was 380 calories and I'm 100% full.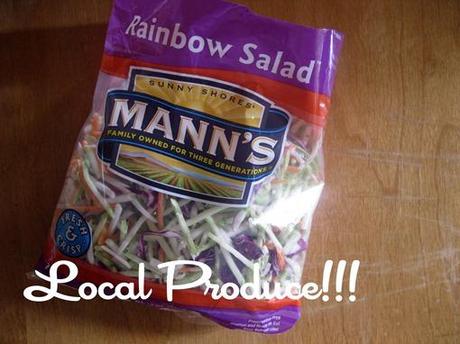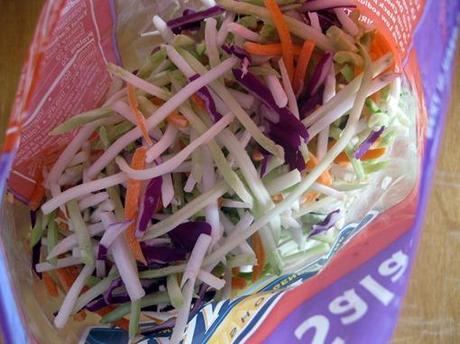 This mix has broccoli, white bean sprouts, red and green cabbage and carrot. That I'm sure of. I think there might be a few other veggies in there. When I saw that a bag has 4 servings and a serving was only 25 calories I added almost the entire bag. Veggies have some killer filling factor!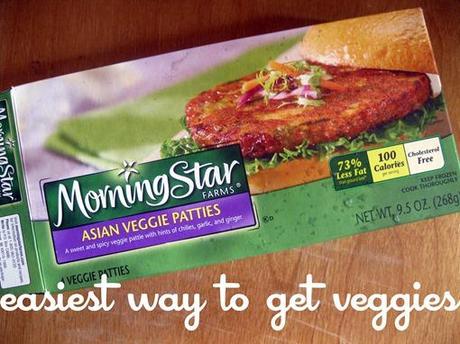 I went with the veggie patty instead of chicken because I needed more veggies today. Veggie patties are a staple in my fridge.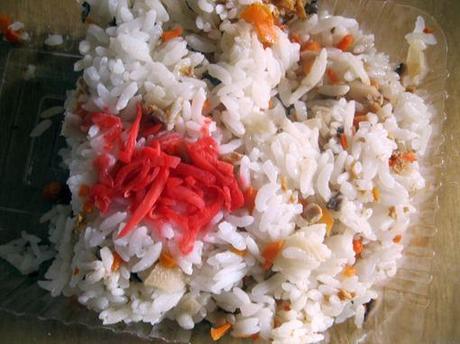 I didn't use completely plain rice… We had some leftover elements of the teryaki chicken dinners from the local Obon Festival, a festival put on by the North Salinas Buddhist Temple. This rice is all that's left. I think there is sesame seeds and definitely carrot in the rice. I added about a cup to my stir fry.