This gluten free pizza is served with a meat crust topped with tender mushrooms, colorful spinach, and bubbly mozzarella cheese.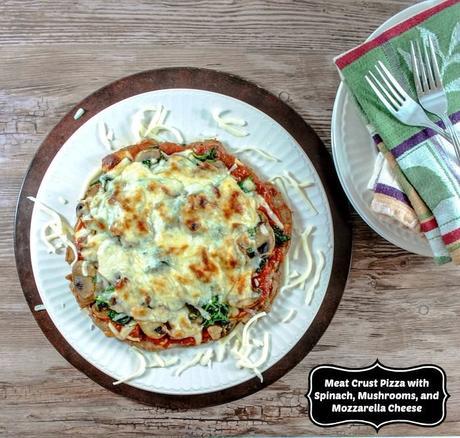 It's 5 Ingredient Friday, and this week I'm serving a meat crust pizza. I'm skipping the typical pizza dough in favor of a gigantic Italian seasoned ground turkey patty.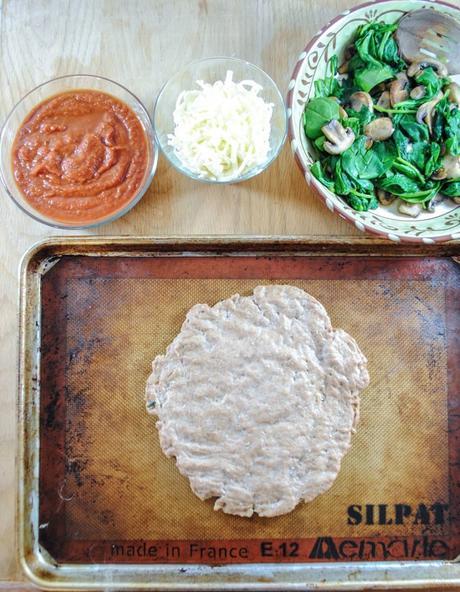 I'm not doing this for any particular reason, other than the fact that it sounded like fun. (Well, maybe because I love pizza crusts and won't stop at one piece.)
Otherwise, we're not on any particular diet plan and don't need to eat gluten free.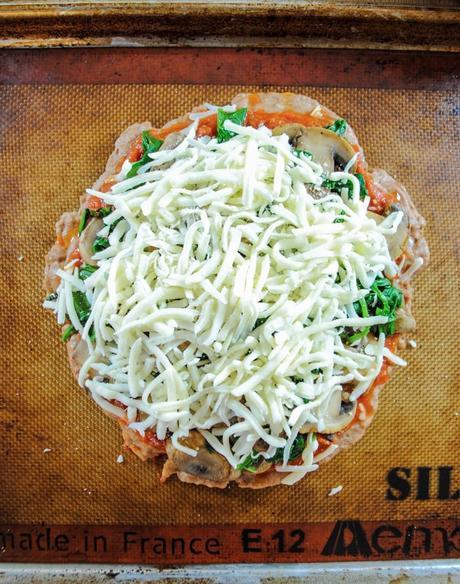 This super easy 5 ingredient pizza was also super easy to make. I sauteed a container of sliced mushrooms in one of my favorite nonstick skillets, then tossed in a package of baby spinach. After a quick wilt, the mushrooms and spinach were set aside, and a gigantic ball of ground turkey was pressed into the same pan then roasted in the oven.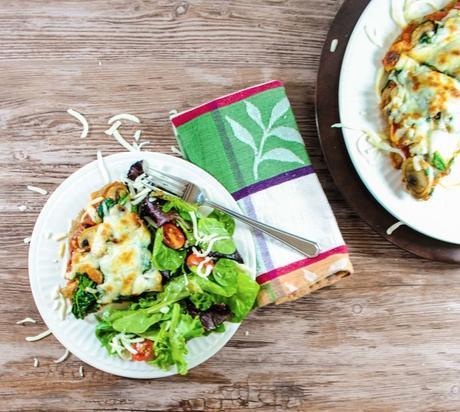 After the meat crust had cooked, it was transferred to a baking sheet to finish off with pizza sauce, veggies, and mozzarella cheese.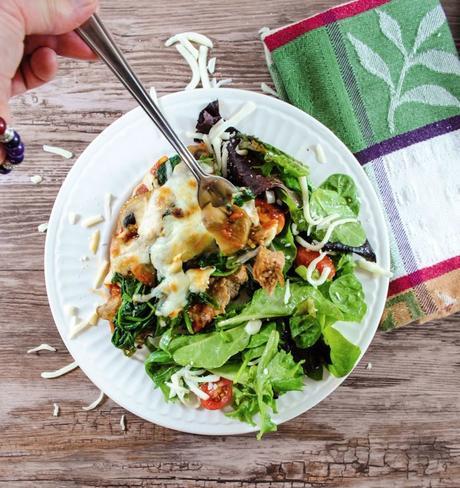 I have to say I'm a fan of meat crust pizzas. I didn't feel overstuffed by the end of the meal and had plenty of room for salad. I suppose this dish should really be called a "meat pie" but I like "meat crust pizza" better, and since it's my recipe I suppose I can call it anything I'd like.
Shake It Up!
Mr. Mike isn't much for ground turkey, he would have preferred ground beef. Next time I make a meat crust for a pizza pie I'll use extra lean ground beef and add a tablespoon of Italian seasoning.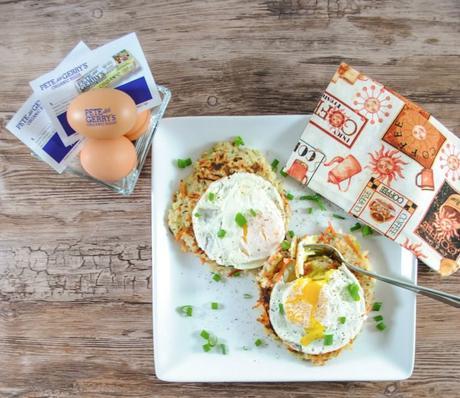 Before I head off to work this lovely Friday morning, I want to remind you if you're a US resident you can sign up to win two free coupons for Pet and Gerry's organic eggs. We draw a winner on Monday, September 12, 2016.
Have a terrific weekend! The weather looks to be pretty amazing here in Snohomish, Washington.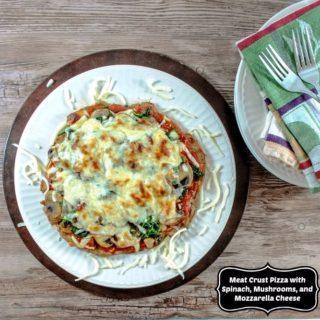 Products I used for this recipe - Calphalon Nonstick Bakeware, Baking Sheet, 2-Piece Set and Silicone Baking Mat. If you decide to make a purchase, Amazon will pay me a commission for it. This doesn't cost you anything additional. These commissions help support the cost of authoring this blog, so thank you!