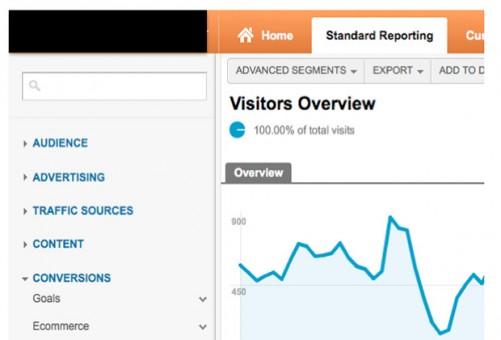 Google Analytics report tools are powerful website traffics report tool almost every webmaster uses to understand how people relate or interact with their websites.
Google Analytics is a popular and free website report tool that can be easily incorporated into a website.
You wonder why millions of websites are using Google Analytics? Because it gives you the graphical details of what's happening to your website in term of traffics as well as conversions.
Google Analytics only requires a little bit of setup, and then you are as good as go.
Within few days, it will give you information about visitors to your website, where they come from, what they're looking for, and how they're getting there.
Google Analytics can also give you a quick insight to what is and isn't working on your internet marketing campaigns.
 
---
Google Analytics Account Set Up
---
With Google Analytics, Google has been able to create a website companion that has been widely accepted. All you will need for you to be able to use Google Analytics is to set up an account with them.
It's even easy nowadays because your single Google account can be used for other Google services such as Youtube, Google Drive, Google webmaster tools, Feedburner, Google Adsense as well as Google Analytics.
After setting up your account, Google Analytics will give you a set of codes you will be required to insert into every page you want to track.
As soon as this is done, your Google Analytics will start tracking your website to provide you with an overview of your site's performance.
 
---
Key Google Analytics Report Tools Every Webmaster Should Take Serious
---
Once you have properly set up the Google Analytics for your website, then you can log into your account and go through the Google Analytics report tools in the dashboard.
There are some really good and useful reporting tools by the left hand side of the dashboard. Many of these reporting tools can be customised to generate reports based on visitors location, browser used to access your website and others.
Below are five major Google Analytics report tools you should take serious.
 
---
Key Google Analytics Report Tools (1):
Visitors Overview
---
The visitors overview is a very important tool in Google Analytics that gives you a report on your website traffic. Visitors overview reports include page views, average length of visit and bounce rate.
It's not only about telling you who visit and where they come from, it also tells you how many visitors are unique, on what devices they are visiting from as well as the type of browser used.
You can be able to pull out more in depth information but this will give you a good indicator about your site visitors.
 
---
Key Google Analytics Report Tools (2):

Traffic Sources Overview
---
Traffic sources overview will enable you to understand how people / visitors are getting to your website.
What this simply means is that it shows you the percentage of users that are getting to your website by typing your URL directly into their browser, as well as via search engines, referring sites and other avenues such as emailed links and social media.
This tool is particularly important for webmasters because this is where you will be able to know how well your website is doing on search engine.
As a webmaster, you will be able to decide on which of your marketing activities helped bring traffic to your website with this Google Analytics reporting tool.
 
---
Key Google Analytics Report Tools (3):
Referral Traffic
---
This is the report that helps you understand through which website your visitors come from. This referral traffic could be through websites that are linked to your website.
For instance, if you are involved in marketing activities such as link exchange, forum posting, guest post, social media marketing and others, this Google Analytics report tool will show you which of your marketing activities drive most traffic to your website so that you can continue doing it and get more traffics.
Some people get traffic through their activities on such social media websites as Facebook, Twitter, Youtube, Google+ and others. You need referring sites tool to know the exact sites visitors were at before they arrived at your site.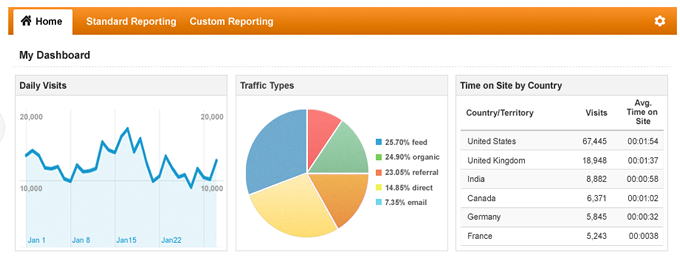 ---
Key Google Analytics Report Tools (4):
Keywods
---
Keywords are very important for your website to perform well on search engine because most organically generated traffics come through keywords searches.
This Google Analytics report tool is what gives you a great insight into the keywords people use to find your website and how often people use these keywords to get your website.
You can also get detailed information on each keyword such as length of visit, number of pages viewed, and conversion rates.
 
---
Key Google Analytics Report Tools 5:

Content Overview
---
Google Analytics report tool helps you understand how people are using your site and which of the pages or posts are most popular.
The popularity of your contents, pages or posts will give you an overall insight into your website performance.
This is particularly useful because you will be aware of what drive people to your website so that you can be able to build upon that.
 
………………………
Conclusion:
It's very important to know that the reporting tools mentioned above are not the only reporting tools Google Analytics offer.
There are far more Google Analytics report tools on Google Analytics dashboard that can help you determine how well your website is performing so that you can work a little bit more to improve your website visibility.