Did you know that certain foods can have a direct and positive impact on your beauty? It would appear that vitamins, minerals and nutrients can help our skin to regain its peach complexion, believe it or not, ladies!
Autumn is upon us and the tan acquired during the summer we leave quietly. We really need a little something that will make us feel beautiful and irresistible. The good news from my point of view, is that little something to eat! Here are my top tips to look good.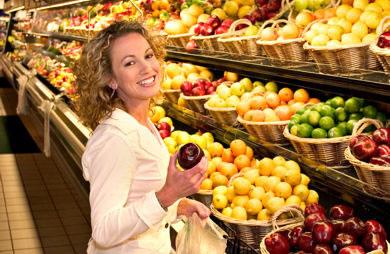 Healthy tips to look gorgeous
1. Hydrate yourself!
You notice that these days your skin and mucous membranes are dry? If yes, do you drink enough? Hydration, in addition to having an impact on our work performance, have an impact on the appearance of our skin. To always have a soft and well moisturized skin, make sure to drink at least 2 liters of fluid per day. Water is of course the best option because it contains no calories unlike many other drinks.
2. Eat foods rich in vitamin C
Foods rich in vitamin C protect our cells (e.g skin) against premature aging and against damage caused by free radicals. In addition, by contributing to the formation of collagen, vitamin C is known to help maintain the integrity of our skin and heal wounds. Food sources of vitamin C are very numerous, deficiencies are rare nowadays. However, inadequate intake can lead to scurvy, a set of symptoms including skin hemorrhages, bleeding gums and delayed wound healing. So give flexibility and elasticity to your skin daily including foods that are rich in vitamin C!
Main sources of vitamin C
Peppers
Papaya
Kiwi
Orange
Mango
Broccoli
Brussels sprouts
Strawberries
3. Eat foods rich in omega-3
The appearance of our skin could also be linked to our consumption of omega-3 fatty acids, mainly known for their beneficial effects on heart health. Indeed, by providing a "barrier", they allow to keep the hydration of the skin. They also play an important role in the formation process of the skin cells and are essential to maintaining the integrity of the mucosa.
Rejoice, only two to three fish meals per week can achieve our needs omega-3!
Main sources of omega-3
Fatty fish (salmon, trout, herring, mackerel)
Walnuts
Linseed
Flaxseed oil, canola, soybean
4. Eat foods rich in antioxidants
You know what free radicals, highly reactive molecules that are involved in particular in the development of age-related diseases? Also called "oxidants", they attack healthy cells of the body in the oxidant. How to limit the production of these oxidants? Eat a ton of foods rich in antioxidants! So you can reduce the impact of free radicals on your skin.
Main sources of antioxidants
Blueberries
Cranberries
Strawberries
Mature
Raspberries
Pomegranate
Apples
Pecans
5. Eat healthy!
If there is still no scientific evidence showing a direct link between poor nutrition and skin diseases such as acne, a healthy diet is reflected and certainly I think our complexion, our skin and our mood! Have fun eating balanced and healthy … you will have more energy and look better, I promise you! And besides, it costs nothing to try!
Author Info: This article is written by Yogesh who writes about Technology, Blogging Tips and also pelvic floor toner.