Today, I invented this lovely 5 grain sourdough bread stuffed with sweetened cranberries & chopped almonds! Photo taken just after it has been fully baked:
A wonderful bread!
It is a simple easy recipe! This bread tastes heavenly! It is not so sweet just the sweetened cranberries & now & then a hint of almonds! It is firmer sourdough, just the way, I like it!

Ha!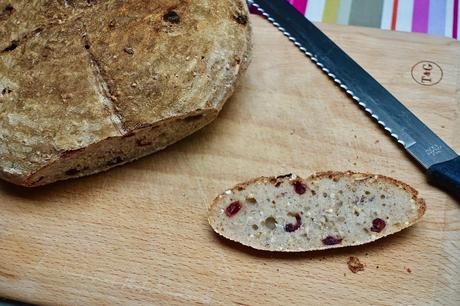 Delicious!
For 1 bread
Ingredients:
500 gr organic 5 grain flour (My mix was Markal organic 5 grains + 3 flakes: white flour T 65, oat flour, rye flour, rice flour, wholemeal spelt flour, barley flakes, millet flakes, sesame & wheat gluten)
200 gr organic T 65 flour
150 gr active bubbly sourdough ( I used white spelt sourdough)
6 gr salt
10 gr vegan butter
50 gr vegan cane sugar sweetened dried cranberries
40 gr chopped almonds with skin
320 ml warm water
Method:
Take Kenwood major & place dough hook in. In fitted bowl, add all ingredients & begin to mix it all in on low-speed aka number 2-3 for 4 minutes. Stop machine from time to time to scrape down the sides & turn machine on again. Then, turn speed up to number 5 & knead dough for another 5 minutes.
Take dough out of the bowl with help of a dough scraper. The dough will stick a bit but that is normal. I don't flour my counter just my hands & dough scraper! Knead the dough by hand for another 2 minutes. I did the stretch & fold method a few times to strengthen the gluten within! Oil a big bowl & put dough in it. I place a closed plastic bag over it & let it sit in a warm place to double in size. This took my dough 4 hours.
Take dough out of the bowl & knead it for 1 minute. Flour a chosen banetton excessively with rice flour. Place your bread with the seam upwards into your banetton. Leave to proof for the last time, for about 2 hours. Preheat your oven to 220°C (430 F) for 10 minutes. Turn bread out of banetton onto a bread silpat that is placed onto a cold oven rack. Finally, score your bread, the way you like it & smear top & sides of your bread with water. Lower your oven to 200°C (392 F) Bake for about 40 minutes on 200°C ( 392 F). Take bread out of the oven & tap the bottom. If it sounds hollow, it is fully baked. I always insert a kitchen thermometer into the centre of my bread. When it is 95°C then it is fully baked, if not return for 10 minutes more into the oven! let it cool down completely on a wire rack ! Enjoy with some vegan butter or with a good slice of cheese or ham! Store in an organic bread bag! Excellent to enjoy with some good tea!