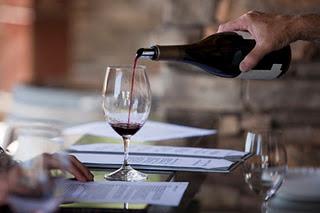 T

here is no argument that most California wineries produce good to exceptional wine
however, there is more to selecting a tasting room to visit than solely for the product at hand. Although sampling wine is the main objective of a winery visit, there are 5 factors I tend to consider before finalizing my winery itinerary; quality, value, wine types & varietals, customer service & tasting environment.
1. Wine Quality: Not all wine is created equal, but does it really matter? For experts, wine quality is a highly important factor, however for the neophyte, not so much. You can invest your time sifting through a plethora of public reviews on sites such as yelp.com or TripAdvisor, but you need to keep in mind that the majority of the general public has a limited knowledge of actual quality and tend to base their opinion strictly on their own personal taste. Even if you want to take public opinion into consideration, you are bound to find inconsistent evaluations since each palate can differ greatly.
Professional wine websites & blogs can offer information on wine caliber but even if the wine is considered to be of superior quality, it still does not guarantee that you are going to like it. In my honest opinion, if you happen upon inconsistent public reviews that specifically target wine quality & taste, it is best not to disregard the winery completely, sample it for yourself and draw your own conclusion.
2. Value: Quality to price ratio is also difficult for the novice to determine since their wine knowledge is so limited. If you really enjoyed it and the bottle is within your price range, I would consider it a worthwhile purchase. A little research prior to visiting any winery will ensure you are comfortable with the cost of the wine. If you find that the winery only produces wine in the $50-$100 range and your budget only allows you to spend between $25-$35 per bottle, I would suggest skipping that particular winery unless your sole intention is to taste. Another facet to consider when determining value is the winery's policy on tasting fees. Most tasting rooms charge a fee to sample their wine and if the policy does not allow for the fee to be applied toward the purchase of a bottle, you have just added 10 or so additional dollars to your purchase.

3. Wine Types & Varietals: Whether you prefer red or white, not every tasting room can fulfill your needs. A great number of California wineries exclusively produce red wine which can leave white wine drinkers out in the cold. If you are strictly looking to taste whites, it is essential for you to do your homework. The good news is, white wine production is gaining ground throughout the state and with some research efforts you will find more opportunities to taste white wine at wineries that have added them to their portfolio. As a red wine drinker, I would certainly be interested in which red wine varietals are produced at any given winery but tend to base my decision more so on which grape varieties are prominent in the region I am visiting. Santa Barbara is well known for velvety Pinot Noirs and crisp Chardonnays, while Paso Robles is notable for spicy Zinfandels and premium Rhone varieties. The Temecula AVA (American Viticulture Area) is a haven for those seeking white wine however, red wine drinkers are bound to find some satisfaction in this region as well.

 
4. Customer service: Hospitality is a make or break in my book and I have encountered more inhospitable tasting environments than I care to mention. I have heard these wineries described as "snobby" or "pretentious" but I just chalk it up to poor customer service. I do feel that some tasting room attendants believe their wine is so exemplary that it will just sell itself; however, if I don't feel there is an interest in explaining the product, I tend to view their service as abysmal, which ultimately ends up costing them a sale.Factors such as service are where I put my trust
in online public reviews. If I see consistent service issues, I will more than likely redirect my business elsewhere. The majority of my greatest tasting room experiences have occurred while tasting with the wine maker or winery owner. Obviously these are the individuals who are motivated to sell their wine and it is imperative for them to do it well.
5. Tasting Environment:
Each tasting environment is unique and I love to mix it up. I have had the opportunity to visit large commercial wineries housed in extravagant castles, mid size wineries decorated with neoclassical elements, small family wineries who conduct tastings from their own living rooms & boutique wineries with tasting areas that consisted of nothing more than two barrels topped with a wooden board. I must admit, my favorite wineries are small, garage type settings packed with oak barrels containing fermenting wine. I find that these wineries are often the smallest producers and are typically best kept secrets hidden among the many mass production facilities throughout wine country. A winery with a breathtaking view is least important on my personal list of priorities and I look at it as an extra added a bonus. On occasion, I do like to pencil in at least one winery with aesthetically pleasing scenery in the event that I decide to relax and partake in a picnic. This particular factor does not hinder my overall wine tasting experience and like I said, is considered a benefit.

 


To some, this may seem like an overly methodical approach to building a tasting room itinerary, but I feel that it increases my chances of exceptional experiences.

 
http://www.oenoventures.com/