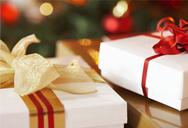 Since the holidays are upon us and travel has slowed,I wanted to take a little break from wine country advice and offer up some suggestions for holiday gifts perfect for your favorite wine enthusiast. Most people like to give wine as a gift, which is fantastic if you are privy to exactly what the recipient enjoys; otherwise your bottle could end up as a much dreaded re-gift or a shelf warmer. If you are uncomfortable giving wine as a gift or desire to
give something a little more imaginative, I have compiled the list below of 10 items that are
sure to wow any wine lover this holiday season.
Vinturi Essential Wine Aerator


Aerate your wine in the amount of time it takes to pour a glass. Within seconds,
reds and whites are mixed with precisely the right amount of air, delivering a better taste. Wines breathe instantly and result in a better bouquet, enhanced flavor and smoother finish. This item can be found at Target. | Price: $39.99
Subscription to Wine Spectator Magazine
Give someone you love the most reliable and useful guide to wine anywhere. Each
issue contains more than 500 wines in all price ranges which are rated and tasted. Winespectator.com. | Price: $49.95 (annually)



iTunes Gift Card With A Thoughtful List Of Must Have iPhone Wine Apps.


This is a clever gift for the Oenophile who is an iPhone user. Apps are a wonderful
and useful tool and there are many that are essential for wine enthusiasts. iTune
Gift cards can be purchased at various stores such as Target, Albertsons & The
Apple Store. Gift cards can be used online at the App Store (apple.com)
Must Have Wine Apps:
*Winery quest pro
  A wine tasting app that offers information about wineries in whichever region
  you are visiting.  Features include, tasting fees, operating hours, architecture, 
  ambiance, dog friendly and more. | Price: $7.99

*Memorable Wines
  An elegant app quickly recording, remembering and sharing your favorite
  wines. | Price: $7.99
*Cellar: Manage your wine cellar
  A phenomenal way to manage your personal wine cellar. Offers space to
  enter intricate information about your collection. It's like browsing the real
 

thing! | Price: $4.99


*Wine Search
  Allows you to compare wine prices quoted on restaurant wine lists with
  

the actual retail price tag. | Price: $1.99
*Cheese Board
  A handy app containing over 1,000 cheese and wine pairings with a
  description of 500 wine varietals. | Price: $1.99
     
*Wine Pocket Pro
  Acts not only as a wine and food pairing guide but also educates you on   
  wine style definitions and how to appreciate wine properly. | Price: $3.99
   4.   Wine Bottle Cork Cage
   An unforgettable clever gift! The wine bottle cork cage is a fun and
   innovative way to keep and cherish all of your wonderful wine memories.  
   Beveragefactory.com | Price: $25.00
 
   5.   Vacu Vin Stainless Steel Vacuum Wine Saver
   This wine saver is a valuable tool for anyone who likes to savor their bottle
   over a period of days. With the sound of a simple click, the Vacu Vin
   stainless steel wine saver is a vacuum pump, which extracts the air from
   the opened bottle.
wineenthusiast.com | Price: $29.95
   6.   Push Button Electric Blue Cork Screw
A wine opener as entertaining to watch as it is easy to use! The blue light
     Allows you to view the progress in the cork removal as it shine through
   the action window. This extractor removes corks smoothly, and promptly
   from your bottle. Wineenthusiast.com | Price: $29.95

   7.   Wine Label Lifter & Label Album Combination Gift
    A great way to document favorite wine!
     Oenophilia Label Lift (50 pack):
     Wine Label Saver removes wine labels easily from bottle and creates a
     laminated label to place in your wine album. Can be purchased from
   amazon.com  | Price: $19.95
  Wine Label Album
      This leather embossed binder offers an organized way to treasure your   
      most memorable wines. This binder holds up to 50 wine labels as well as
      wine ratings and other information you need to remember. Can be
      purchased from wineracksuperstore.com | price: $34.99
     8.   Arrange A Private Tasting At A Winery
         Many wineries offer private tastings for a fee that include benefits such as   
     barrel tastings, vineyard tours, tasting of reserve & library wines, vertical
      tastings, food & wine parings. Prices & benefits very per winery. For a list
   of wineries visit oenoventures.com
     9.  Tickets For A Local Wine Event
     Each California Wine region participates in wine events sponsored by the
   local chamber of commerce or vintners association. Events can typically
   be purchased in advance and include benefits such as unlimited wine
   tasting at participating wineries, barrel tastings, food & wine pairing,
   discounts, drawings and more. Prices and benefits vary per event. For
   information on wine events oenoventures.com
   10.

  
Intelli Scanner Mini
    You will enjoy this

portable barcode reader

, and

innovative wine

     
  

management software

to manage, track, and search your wine collection.
   Just

scan the barcode

on a wine label and the scanner will automatically
   download detailed information on your wine like the winery, vintage, type,
   and varietal

-- no typing necessary

! intelliscanner.com Price: $279-$329
   I hope my suggestions are helpful and I wish you all a wonderful holiday season!