Any mom knows that appeasing the desires of a young child can be enough to drive you insane. Mix a short attention span with an ever changing taste, and your kids are likely to have you ready to throw in the towel. Creating the perfect bathroom for your kids doesn't have to be as hard as you might think.
Kids have favorite colors, themes, cartoon characters, super hero, and so on. So how do you go about blending all of these elements into one design that will be easy to clean and safe for your children? Here are 5 Creative Kids Bathroom Ideas that you can implement in your child's bathroom!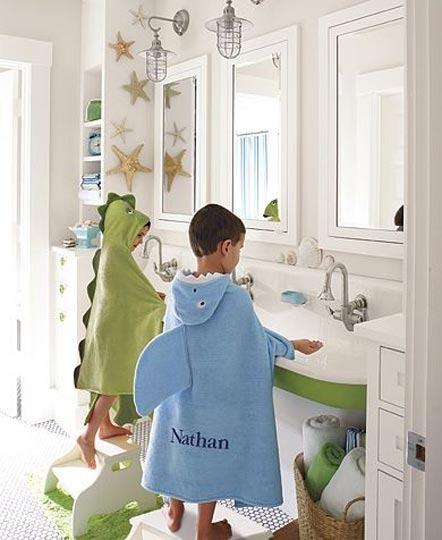 Trough sinks are fun! Image via Goddessof4.
Trough sinks are a great idea for siblings because they are highly durable and they encourage kids to wash their hands. Washing hands is much more fun when you have somebody next to you! Trough sinks can convey the rich history of your home due to their rustic appeal.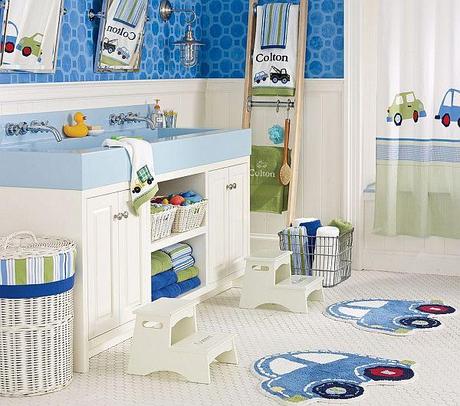 Cool blue kids bathroom! Image via Architecture Design.
Personalize your kids restroom by putting their names on towels, walls, and accessories. This bathroom uses several hues of blue but notice how they all tie together. This helps for presentation.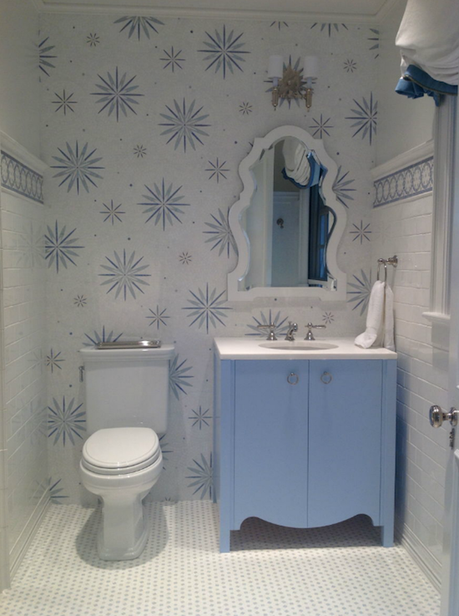 Cute modern girls bathroom. Image via The Zush.
This cute design has a powder blue vanity that would be ideal for your little princess. The wall paper mimics the shine of stars. This playful but simple design would be perfect for kids who are 7-12 years old. Once they grow older, you may even be able to keep this design!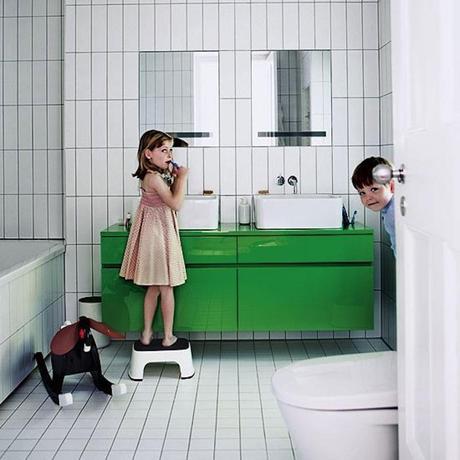 Lacquered vanities are ideal for a kids restroom. Image via Remodelista.
The lacquered finish looks clean and can put up with the wear and tear that your children are sure to place on your bathroom. The lacquer can actually serve as a protective layer of sorts, plus the glossy finish cleans up with little effort necessary. Just use a damp cloth to wipe away any smudges and spend your time doing something else, like sleeping! You can learn how to lacquer your wood vanity here.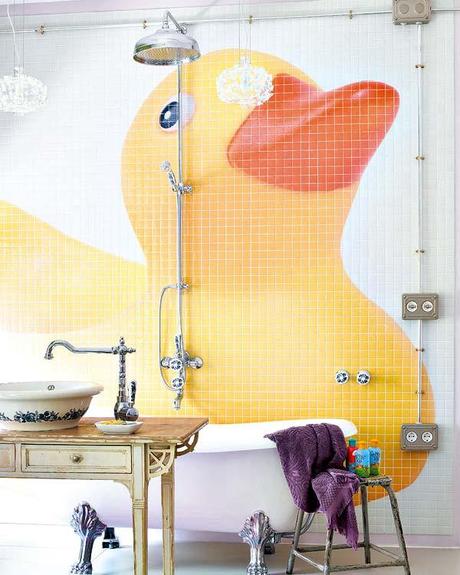 The rubber ducky has been an all time favorite with kids! Image via: Architecture Designs.
What kid wouldn't love a giant rubber ducky in the bathroom. Painting walls with kids themes, action figures, and super hero's will leave a lasting impression. If you are artistic by nature, this would be the perfect chance to work with your child and show them how to express themselves through art!
Now that you've seen a few examples, here are some guidelines that you can follow to create the perfect bathroom design for your kids. Have fun with this project, you'll only get to do this once in your child's lifetime! Be careful not to clutter your bathroom with an array of irrelevant decorative pieces that don't tie together. Try to pick one theme and have it show up in different areas. This will make your design appear to be well-planned and uniform. Seeing too many variations will be overwhelming and appear to be unorganized.
Tips for Designing a Kids Bathroom
Choose one theme and stick with it. Use an underlying theme to use in your bathroom and incorporate small features of this theme into the design. If you are creating a Spiderman theme, use red and blue colors and find cheap bathroom accessories that will supplement the overall design.
Choose a short bathroom toilet so that it makes going to the bathroom easy for your kids. Parents may not realize it but not all toilets are the same size, shape, and size. You can learn more about toilet variations by checking out this previous blog post.
Put a hamper in the bathroom so your kids get into the habit of tossing their dirty clothes in the laundry after taking a bath.
Invest in child safety cabinets with the soft close function to prevent drawers from slamming and pinching any little paws!
Get your little one involved! Encourage your kids to contribute their ideas! Get their input on color, wall paper, towels, and different bathroom fixtures. Letting them choose now will decrease the likely hood that they will get tired of it later. After all, you can always remind them that they picked it out.
Kids Bathroom Safety
Remember that safety always comes first. Avoid sharp corners if possible, by opting for rounded counter tops and smooth edges. Head to Wal-Mart and place an inexpensive rubber mat on the shower floor to prevent slips and falls. It's better to invest in a $10 floor mat than pay for an expensive trip to the ER! Also, make sure that you take care of mold AS SOON as you see signs of deterioration. You can learn about how to detect and remove mold by reading this post.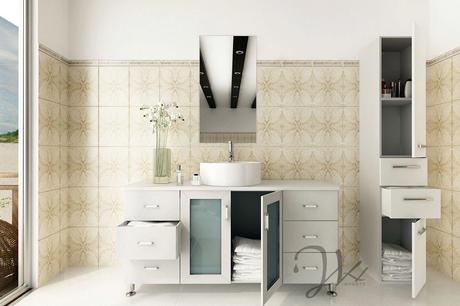 JWH Imports features a collection of modern bathroom vanities that feature soft-close glides on all doors and cabinets. Learn more here.
Other ways you can child-proof your bathroom are adding child safety locks that prevent small children from accessing the medicine cabinet and powerful cleaning agents located beneath your vanity. Last but not least, NEVER leave a small child alone in the bathtub even for a minute. Small children can drown in just a few inches of water so they MUST be supervised at all times!
Keep in mind, as much as you might want this to last forever, designing a kids bathroom is a temporary project. When you bought your daughter those cute Tinker Bell pajamas, you probably didn't think she would wear them all through high school. Yet and still, you can make this something to remember, both the design and the experience you share with your child.
About this Post
This post was written on behalf of TradewindsImports.com by Cheryl Khan who is a contributor to the blog. She shares a passion for interior design and is always open to sparking up a conversation on twitter! You can send her a tweet @superinteriors. See you there!