Backpacking longterm can mean staying in a lot of substandard, dingy hotels and guesthouse rooms. Anyone that has spent enough time in budget accommodation can tell you that it gets old. But if you're just leaving modern comforts or want to come back to them in style, there are some great options. If you've saved money by buying cheap airline tickets and have a little leftover to spare, why not treat yourself to one of these five bizarre airport hotels: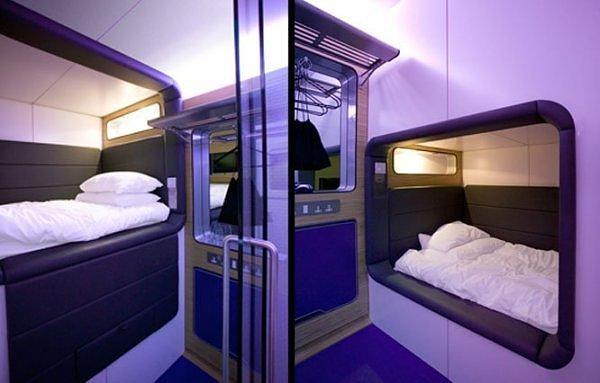 1. Jumbo Hostel, Stockholm, Sweden
Yes, you're seeing the photo correctly. It's a hostel in a plane. An old 747, to be precise, that is securely anchored to the ground at the airport. There are 25 rooms inside with room for up to 79 people. The "Cockpit Suite" pictured here is the most expensive option, all other passengers use refitted airplane lavatories for their bathrooms.
2. Dubai International Airport, UAE
One word: SnoozeCube. Yep, they're basically what they sound like. If real Dubai hotels are too expensive your budget, just snooze in a little cube! At $16 an hour they add up quickly, but you're plugged directly into flight information so you can be sure to never miss your plane. There are ten of these compact white structures in Terminal 1 of the airport.
3. Kempinski Munich, Germany
400 rooms in a huge glass and steel building just outside the Munich International Airport great travelers arriving to one of Germany's most fun cities. It is comfortable, stylish, and one of the highest customer-rated airport hotels in the world. Munich is a popular Lufthansa hub and gets around 40 million passengers each year.
4. Yotel London Heathrow, UK
If your British Airways reservations are leaving you with a stopover in London, don't despair—you have the chance to stay in one of the weirder accommodations that I've seen. This compact, futuristic hotel offers neon, pod-like rooms that are often only big enough for one person (though larger ones are available). Brightly colored lights, spacey vibes, and overall weirdness are on display just steps from the reservation counter.
5. CitizenM, Schiphol Airport, Amsterdam
The name means Citizen Mobile, but the style of these rooms might not be appreciated by all kinds of citizens. The company that made these sleekly designed elite suites clearly had a Star Trek kind of mentality towards architecture and decorating. Stepping into the shower can be a little bit disconcerting, as you're always wondering if you're about to be beamed somewhere else.
These might all be expensive choices, but what better way to spend your layover than in extreme luxury, or at least extremely odd circumstances? Your backpacker tendencies might rebel, but it will always make for a great story.