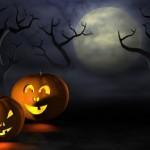 Ghosts, haunted houses, and the walking dead aren't the only things that can scare someone. In fact, if you're anything like our customers (small business owners and fleet managers), there are a lot more realistic and everyday occurrences that can scare you silly, like discovering that an employee has been fabricating their daily log. Doesn't sound too frightening? What about the fact that this fabrication caused you to pay them for 140 hours when they really only worked 20 and spent the rest of the time at a nearby park? Not to mention, 55 customer sites were never visited.
Scared yet?
Here are 4 more bone chilling small business stories straight from our customers that will surely make you cringe (or at least think twice about the way you're managing your fleet of vehicles).
A Speeding Nightmare
The scariest thing we discovered while monitoring our fleet with a GPS tracking system was the EXCESSIVE, out-of-control speeding of some former employees. Some went over 100 mph, which is not only illegal and a bad reflection on the company, but dangerous and completely unnecessary. We also discovered one of our employees leaving a company truck in a random mall parking lot OVERNIGHT while he worked a second job. Nice to find out that he was using our truck AND gas to get from one job to another.
Employee's Tricks for Treats
We discovered an employee that was going to home improvement centers on company time and shopping for windows and counter tops for a home renovation on his residence. He would meet his wife first thing in the morning at various supply houses to pick out their products or pick them up and deliver them home with a company vehicle.
Terrifying Idling Times
After tracking our vehicles for some time we noticed our idle time was not right! In April of 2009, we had 1,016 hours and 34 minutes of idle time alone in that month! We were flabbergasted; it was almost like looking at a zombie! And I must tell you that this was only 9 trucks and only 7 were used 6 days a week! So we did some homework and found that we were burning 1 gallon of diesel for every hour we were idling!! And the way diesel prices are we were wasting thousands of dollars a month! With the help of Fleetmatics, we currently are running 8 trucks now 6 days a week and 2 part-time and we have managed to get our idle time to 480 hours a month!
A Truck Disappears
It was October of 2010, we had a crew working in Rahway, NJ. A group of guys decided to drive a brand new 2010 Chevrolet GMC Sierra, equipped with a FleetMatics GPS System to a convenience store to get some coffee. It was about 7:00 in the evening. The guys left the truck running in the parking lot and went inside to get coffee. As luck would have it, when they came out, the truck was gone…
Find out what happened
For more stories from our customers about the scariest discoveries they've made from using a GPS tracking system on their fleet, visit our Customer Connect page.