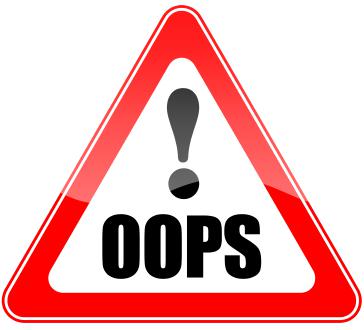 While the technology behind all GPS vehicle tracking systems to gather location-based data is the same, it's how the tracking data is transmitted, what data is transmitted and how all that data is presented to the user that differentiates quality GPS vehicle tracking from inferior products. Here are the five biggest mistakes to avoid when choosing a vehicle tracking system:
1. Passive Tracking
For passive tracking, all the GPS tracking data is stored in the receiver and must be downloaded once all the vehicles return to the office. Be cautious if a vehicle tracking system that "updates" every 5, 10, or 15 minutes as this isn't truly live, and often times you can be charged for additional pings if you need to locate your vehicle between intervals. What you DO want is active GPS tracking – active GPS tracking means that the data from the GPS receiver is transmitted to a remote user at regular intervals. The best systems transmit data every 60 seconds. This gives you real-time location information.
2. Downloaded Software
Many vehicle tracking systems utilize proprietary software that requires installation on your computer. Often, these solutions also need frequent manual upgrades and downloads. Another drawback to proprietary software is that the GPS solution can only be used on computers with the proper installation. You want to look for a GPS tracking system that provides the information securely over the Internet. The flexibility and 24/7 accessibility of an Internet-based solution makes is the way to go when deciding on a specific vehicle tracking system.
3. Limited Reporting
A GPS tracking solution should provide you with the data and reporting capabilities necessary to make informed business decisions. One key to reporting is flexibility. If a vehicle tracking system doesn't allow you to automate reports on a weekly or monthly basis while also giving you the ability to generate reports instantly, cross that one off your list. The reports should be concise and easy to understand. The data should be organized to give you information about daily vehicle activity, speeding violations, violations of company driving policy, a complete list of vehicle starts and stops, excessive idling times and much more. You should also be able to access any GPS information gathered by the system from the time you started using it. If a GPS tracking solution does not offer all of these features, it'd be a mistake to choose that provider!
4. No Alerting Feature
The GPS tracking solution you choose should include alerting features to notify you of unwanted behavior. Alerts should be flagged in relevant reports and you should also have the ability to be notified of any alerts as soon as a violation occurs via email or mobile device. Alerts can be triggered for excessive speeding, excessive idling, engine start-up or shut-down during off-hours, unauthorized vehicle usage and when a vehicle enters or exits specific geographic areas. The vehicle tracking system should also provide alerts to notify you when vehicles are due for scheduled maintenance. These alerts can be scheduled based on a specific length of time, miles driven, or engine-on time. If the GPS tracking system you are looking at does not include Alerting features, forget about it.
5. Outdated Mapping
If the GPS tracking provider isn't partnered with a well-known mapping provider – like Google mapping – to provide you with the most accurate and up-to-date mapping available, chances are it'd be a big mistake to invest in it. A vehicle tracking system's mapping features should allow you to zoom all the way down to street level and provide street, terrain, satellite and hybrid street/satellite views. In addition, you should be able to get real-time traffic information and construction alerts via the mapping in order to help drivers avoid traffic congestion.
Be sure to read part 2 of this blog for more tips on avoiding a poor GPS tracking provider.