Congrats! You've at last upgraded your CRT television to that new, multipurpose, High-definition LED/LCD/Plasma screen. But you must accept, without a proper TV unit, it isn't giving that desired ambiance to your living area. Though you can easily hang or fix that big screen to the seating area opposite wall, a wooden TV unit will give an unprecedented aura of style and luxury to your living room.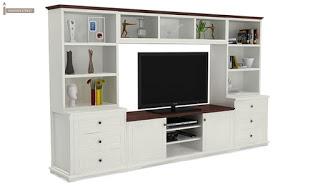 Apart from embellishing your living room, a TV unit will also provide an exclusive space to your television, where you can keep things like the media player (CD/DVD), books, STB or DTH devices. Some of these
TV stand
come with additional drawers where you can make disks and storage devices section. For more
Colin TV Unit : If you're looking for an exquisite furniture piece with a look of delicacy, Colin TV unit is the best option for you. The contemporary design can give your living room a novel look. It's wooden framework, with the multifarious finish, makes it compatible with almost all the types of exteriors. Moreover, despite its graceful structure, the TV unit is recognizably robust, making it a smart choice for your living room furniture.
Maple TV Unit : The best part of this TV unit is that it comes with an additional storage shelve. The storage shelve is an extension that can be easily detached from the main TV unit frame. It is perfect for those living rooms where a considerable part of the display wall is reserved for the television. The whole furniture piece is so elegant and imposing that it alone can make your living area look charismatic.
Felner TV Unit : So, you don't really want to give a substantial part of your living room to the television and accessories. You just want a small furniture piece, where you can easily put your TV and store few things in the drawer. Well then, custom Fellner TV unit is the perfect solution for you. The Sheesham wood gives this stately furniture piece the sturdiness a TV unit requires. It's small size and firm structure makes it ideal for modest living areas.
Wilder TV Unit : This TV unit from the aviator range does not require any words to compliment it. Its frame is so unique that it alone can give your living room a sui generis semblance. Moreover, not a single part of this furniture can be regarded just florid. The storage capacity and functionality will definitely give you a feel of the epic that has inspired its design.
Brunel TV Unit : For the ethnic décor, nothing can work better than the Brunel TV unit. The furniture piece is ideal for the living rooms that have traditional interiors. The design of the item is, apparently, inspired by the Rajasthani Royal's furniture settings. It is a very space efficient and durable furniture item. It is an effective tool to give your living area a touch of majestic royalty. 
So, what are you waiting for, open a new tab in your web browser and start browsing the exclusive range of TV units now? Give a novel air to your otherwise boring living room decor and in any case, that new LED definitely deserves better than to be affixed to a wall.