Affiliate marketing is more active and interesting than ever. You can earn real money while doing something you love. Affiliate marketing gives many people a chance to be successful, but it's not an easy industry to be.
While affiliate marketing is thriving, competition is bigger than ever. If you want to be successful, you have to start with the right steps.
First of all, you should choose a niche you are interested in and have good knowledge of. The second step is creating a blog or a website. The third and very important step is signing up for affiliate programs.
There are many websites and platforms that have affiliate marketing programs. Today I will share with you the most important networks you should sign up for as a beginner.
It does not matter which niche you are working in; these marketing networks are a must and you should not miss them.
Affiliate Marketing Networks For Beginners
1. Amazon Associates
Amazon Associates Program is Amazon's affiliate marketing program. This network is pretty much used by everyone who uses affiliate marketing. Amazon Associates is great because it offers a wide range of physical products.
It does not matter which type of products you are promoting; you can always count on Amazon. While it is not one of the favorites among many marketers, they still admit that it is a must-have.
Even with its disadvantages, Amazon Associates is a good marketing network you can start with. They have an easy sign-up process with instant access to the affiliate dashboard.
Moreover, you do not need experience or much knowledge of affiliate marketing. Its user-friendliness makes it a perfect starting point for beginners.
Pros of Amazon Associates
Diversity and hundreds of available products in every niche
User and beginner-friendly platform
Most trusted brand
You earn commission from every new product that someone referred by you purchases. Even if you did not refer a particular product, you still earn a commission. This is one of the biggest advantages of Amazon Associates.
The payout threshold is as low as $10 which can be very helpful for affiliate marketing beginners.
Cons of Amazon Associates
Cookie limit - The universal cookie window lasts only 24 hours. This is a big disadvantage because most people take time to purchase products. You will get the commission only if the person you referred buys a product within 24 hours.
Country Limit - Each country has different affiliate programs and you would have to register for each individually.
Low commission rates - Actually as little as 0.4%. They keep making changes to their affiliate commission rates which is sometimes too frustrating.
Delayed Payments - Due to Amazon's 30-day money-back guarantee, you will only be paid after 30 days. Also, the payments are made via check which can take another 2-3 weeks to reach you (applicable on international affiliates).
Even with its cons, this marketing network deserves to be tried out by newcomers to affiliate marketing.
2. ClickBank
ClickBank is one of the best affiliate marketing networks for beginners. Unlike Amazon, which mostly sells physical products, ClickBank has a wide range of digital products.
More specifically, the platform is for affiliates who have chosen a more specific niche to work in. While some affiliate programs boast of having big companies, ClickBank gives you an opportunity to discover small businesses.
You can promote softwares, online courses, eBooks, and many other digital products through its affiliate program.
ClickBank has been on the market since 1998 and has quite an experience in affiliate marketing. As with any other marketing network in this article, ClickBank is far from perfect.
But it is a safe and good start for beginners. Website's experience and a number of customers guarantee that you can find digital products that fit your blog.
Pros of ClickBank
Cookie time limit - ClickBank offers up to 60 days for cookies. The duration varies according to different products, but generally, ClickBank gives you time to sell products.
Diversity of niche products - In a very competitive market, it is a good strategy to concentrate on niche products. At ClickBank, you will find things that you cannot find that easily on any other platform.
High commission rate (mostly 40-100% depending on the front-end selling price)
The payout threshold is as low as $10.
Their ClickBank insights tool helps affiliate merchants find vendors that have sold or are selling similar products.
Cons of ClickBank
Scams - If you are applying for the ClickBank affiliate marketing program, be careful. There are not that many, but still, there is a risk of facing scams. Before promoting anything, see the products carefully and make sure the vendor is reliable.
High competition - Since ClickBank is the firstmost network affiliate marketing beginners start at, they have a huge amount of competition. However, you can always check their gravity scores and decide whether to promote a product or not.
Low-quality products - ClickBank's wide range of products can be seen as a con because it takes a lot of time to look for quality products for promotion. Vendors who sell low-quality products also use aggressive sales tactics, which can be very annoying.
3. CJ (Commission Junction)
CJ, aka commission junction affiliate program, is one of the most experienced and well-established affiliate marketing networks out there. Established in 1998, the company has managed to provide quality services to affiliate marketers.
This network is mainly useful for people, who want to promote digital services. It unites various merchants, some of them are leading companies in their field.
CJ is also a platform for smaller businesses. For beginners, this marketing network is the right way to start affiliate marketing. CJ's marketing network offers various tools to increase performance and boost sales.
Pros of CJ Affiliate program
Trustworthy marketing network
Easy sign-up process and approval
Wide range of available merchants and products
Real-time analytics - this tool is helpful for any marketer, but mostly for beginners. When you are just starting it is important to monitor everything in real-time and CJ offers this option.
Cons of CJ Affiliate program
Using the dashboard can be tricky in the beginning, but this is worth the high quality you get
They hold the right to ban your account without any prior notice or explanation
Sometimes payments are blocked unreasonably
You need to apply and get approval for each program individually. Moreover, some affiliate programs require a minimum payout and certain milestones to be achieved.
Overall, the CJ affiliate program is on this list because of its reliability. You can be sure that with this marketing network you will receive high-quality services.
Also, they are very selective about the products and companies they collaborate with. With the CJ Affiliate program, you will not have to worry about the products you want to promote.
ShareASale is definitely again among the best affiliate marketing networks on the market. Through this affiliate program, you can start working with various merchants and promote quality products. It includes big brands.
ShareASale unites digital as well as physical products. This is a great advantage of this network. You will save valuable time because the network unites different products in one space.
To be frank, it is quite easy to use therefore, it's perfect for beginners. ShareASale is known for its kind attitude toward affiliate marketing newbies: it's user-friendly and very convenient.
Wide range of digital and physical products with over 4,000 affiliate programs to choose from.
User-friendly navigation
Easy sign-up process and approval
Includes pay-per-call advertising programs
Access to affiliate managers
A solid reporting interface helps create customized reports
The ShareASale dashboard is a little messy. Moreover, customization may seem a little complicated in the beginning.
You need to apply for each affiliate offer separately and wait for approval. Though the acceptance rate is high, you still have to wait to get one.
Sometimes no notification is sent if the offer is inactive or shut down.
5. Rakuten Affiliate Network
Rakuten Affiliate Network is a very professional marketing network that gives you the opportunity to work with top brands. These brands include Microsoft, Macy's, New Balance and etc.
Rakuten Affiliate Network, aka Rakuten Advertising, is an award-winning marketing network for its high quality and convenience for publishers.
The previous name of Rakuten was LinkShare. You can easily search for products that fit your niche and start promoting. The payment methods of Rakuten Affiliate Network are diverse compared to its competitors.
Although some publishers have complained about the interface and delayed payments, Rakuten Affiliate Network is definitely worth your time. Through this marketing network, it is easy to find different affiliate opportunities, create links and banners.
Pros of Rakuten Advertising
Easy to use and navigate
Diversity of payment options
Variety of top brands
The simplicity of the registration process
Helpful affiliate tools, resources, and training materials are available
Cons of Rakuten Advertising
Delayed and unpredictable payment schedule - can be extended up to 90 days in some cases
Conclusion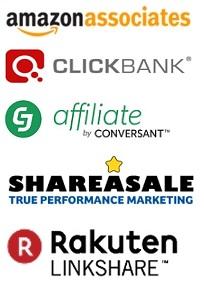 There are many affiliate marketing companies you can choose to promote products or services from. However, being a beginner, it is better to choose affiliate marketing networks that are easy to apply to and get approval.
Moreover, another benefit is that there are rarely any conditions or minimum earnings that you need to show in records. In addition, there are hundreds of products (if not thousands) to promote and get hold of affiliate marketing.
However, each of these affiliate marketing networks does have its pros and cons. But, it doesn't stop you from applying and promoting the products and services listed there.
Just make sure you avoid making silly affiliate marketing mistakes most may have made or are making. And, simply follow the little tips to succeed as an affiliate marketer.
In addition, look out for how well these networks cop with affiliate frauds.
To conclude, all of the above-mentioned networks provide an opportunity for beginners to start a successful affiliate marketing career. All you need is to choose and promote a product or service wisely. Never go against the affiliate rules and guidelines. Good Luck!