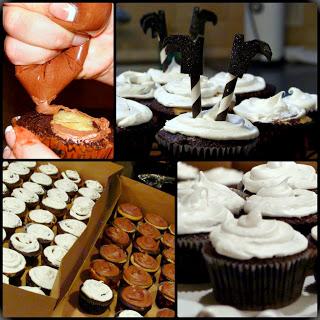 The little Sister's annual Halloween party was a hit as always!  She's beginning to make a name for herself as kids and parents start asking for details mid summer.   With the children getting older, we have to adapt so the "entertainment" varies each year - she can't disappoint and this party was no exception.
The basement was transformed into a teen night club with professional lighting, fog machines and a live DJ.  As a person with no children and someone who likes kids in small doses, this was the perfect set up.  Candy crazed kids danced their energy away while I attempted to match their every dance move...well, for a good 45 minutes at least.  Apparently my legs don't bend as low as they use to - I can only do the Cha Cha slide so many times. As a result of my awesome dancing, I neglected to take pictures.  Thankfully, my niece loves my camera and snapped a few shots for me.
Food:  This year my sister opted to have the party catered to save time and sanity.  It was a success and ended up saving her a few bucks in the long run. (the main dishes were catered but we still managed to make desserts and appetizers).
I made my Husband's smoked salmon dip - I found this is not for everyone.  Especially kids.  I'm a fan though and it's simple to make.
Smoked Salmon Dip
1 (15 1/2 oz.) can pink salmon, drained well

8 oz. cream cheese, softened

2 tbsp. onion, finely chopped

1 tsp. liquid smoke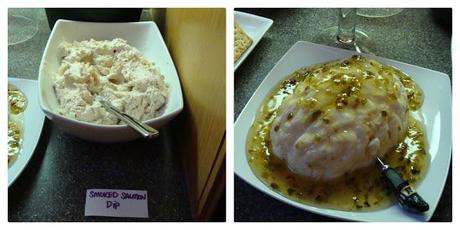 The brain dip on the right is made of cream cheese and finely chopped onions - topped with jalapeno jelly.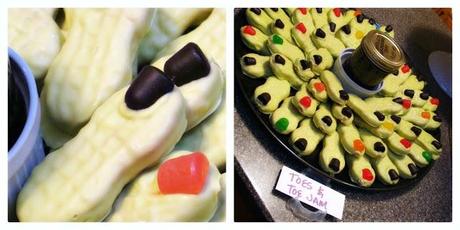 Nutter Butter 'Witch Toes' covered in white chocolate.  Served with Jam - "Toes & Jam"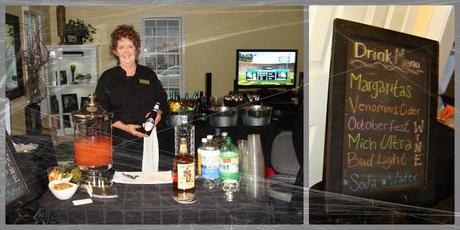 We used Pam to bartend my Sister's Summer Solstice party back in June and it was a great move.  She made a return appearance and we couldn't have been happier.  When having a party as large as we did, it's a good idea to have someone regulating the bar.  Some people don't know their limits and we didn't want that liability - especially with so many underage guests.

I wish I had more pictures to share - maybe next year we'll hire a photographer.  I hope to upload costume pictures soon.  Stay tuned.