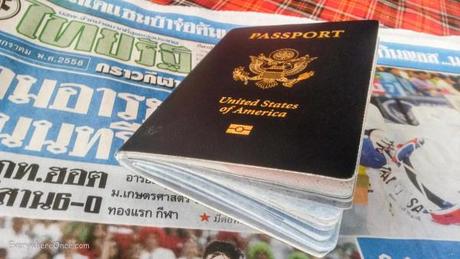 Our most recent purchase – a fatter passport
There's something vaguely exciting about the blank visa pages contained within my passport. As much as I love the stamps documenting where I've been, it's those empty visa spaces where all the possibilities reside; each one bursting with promises of travel stories as yet untold but yearning to be written.
Recently, though, we've been burning through our blank visa pages like rolling papers at a Colorado ski resort. The truth is that we're traveling more these days than our passports were designed to accommodate. It's a high class problem for sure. But it is a problem nonetheless. And one that we suddenly realized we'd need to deal with before we can board the flight we already booked to Greece this spring.
The good news is that the U.S. government allows its citizens to add up to 72 blank pages to their passports. The bad news is that they make doing so an unnecessarily ridiculous ass-ache.
We originally planned to take care of this when we returned to the States in March. We're spending an entire month in New York City, which is more than enough time to deal with simple administrative things like this. Or so we thought.
According to the U.S. State Department website it takes 4-6 weeks to add new passport pages. That's more time than we'll have. For an extra $60 per passport we can request expedited processing, but that only speeds things up from a snail's pace to a crawl. It still takes three weeks, and that cuts things a bit too close for our comfort.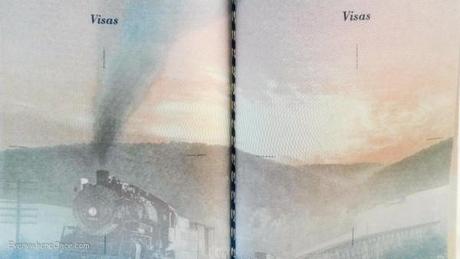 Ahh, the possibilities.
If you're really short on time, like we are, you can request an appointment at a passport agency and, if deemed worthy, have pages added in 8 days. That sounds okay, but then the agency does the most ludicrous thing imaginable: it snail-mails your passport back to you.
Now that's a stupid procedure under normal circumstances, but it's even worse for us. We won't be at an address in New York where we can accept mail, and having it sent to our permanent address in Texas just kills time we won't really have.
Our only option was to beg the agency for the right to pick up our passports in person when they're ready, a privilege they apparently offer but reserve "for life or death emergencies and immediate travel." 
It all seems a tad excessive for something as simple as adding pages to a book. And indeed it is.
On a whim we checked to see how long it would take to do all of this at the U.S. Embassy in Bangkok, Thailand. The answer: one freaking hour. That's right, you can add pages to your U.S. passport in Bangkok about 191 times quicker than the fastest time possible when applying within the U.S.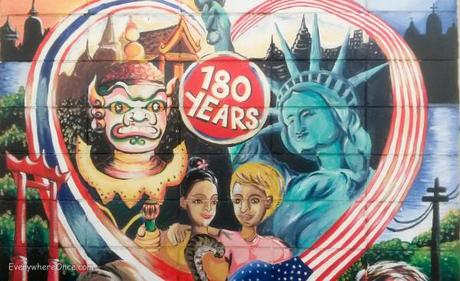 Mural outside the U.S. Embassy in Bangkok – 180 Years of Friendship
For icing on the cake, you don't need to pay for expedited service in Bangkok. One hour turn around while you wait is their standard processing time. That saves us $120, and countless headaches, compared with trying to do the exact same thing back in New York.
So that's how we spent this morning, buying 48 glorious pages of possibility. It feels like freedom.