The North West of England offers a diverse selection of activities and sights. If you only have a few spare days, knowing where you want to visit beforehand is a smart way to make the most of your time. So, without further ado, here is our list of the top attractions in the North West.
Liverpool Cathedral
The city of Liverpool is lively and bustling – a fascinating spot for a visit. If you decide to explore this historic city, then it's well worth popping over to see the inspiring Liverpool Cathedral. The cathedral's imposing stature and striking Gothic Revival architecture makes this one of the most impressive and attractive buildings in the North West.
Free to enter and open between 8am and 6pm, it is a relaxing spot that is certainly worth a visit, even if you don't usually have an interest in cathedrals, religion or architecture.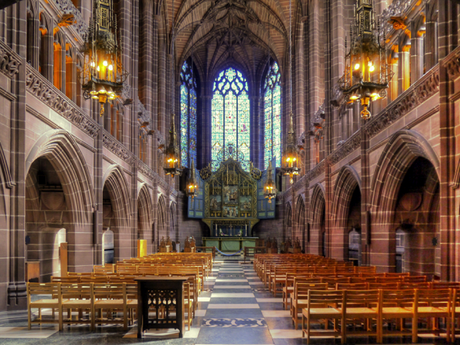 Image Source
Derwentwater Lake

Located a 10-minute walk from the center of Keswick, the lake of Derwentwater is a beautiful retreat nestled in the Lake District.
Perfect for escaping the city for some peace and quiet, the lake is circumnavigated by a scenic 8 mile path. If you don't fancy the whole 8 miles, then just head to the eastern shore and mount the impressive viewpoint of Friar's crag, cutting out into the lake.
If you prefer to travel by boat, lake cruises are also available, making Derwentwater a great spot for a relaxing time with the family.
Knowsley Safari Experience
Just outside the town of Prescot in Merseyside, Knowsley Safari Park offers a family-friendly, activity-filled day out exploring the wilds of the animal kingdom.
Housing an impressive variety of animals, and with a range of events on offer, the park promises a unique experience, filled with exotic sights, while information on species, conservation, and animal welfare add an educational aspect. The opening times for Knowsley Safari Park are 10am, with last entry at 4pm. The park, though, closes at 5pm, so you'll want to give yourself at least half a day to explore, with a full day recommended for taking in all the sights.

Image courtesy of Knowsley Safari Park
Old Trafford
Whether you're a diehard Manchester United fan or simply have an appetite for football and its rich history, then taking a tour of Old Trafford is a superb experience.
A must for football fans visiting the Manchester area, Old Trafford offers a number of different museum and stadium tours. The Red Café also serves up a selection of beverages and food, allowing you to refuel while learning about the fascinating history of one of the world's biggest and most influential sporting teams.
Stadium tours start at 9:40am and run throughout the day until 4:30pm. The museum is open from 9:30am to 5pm, except on Sundays, when the hours are 10am to 4pm.