It's half term which means seven days of thinking up ways to entertain the kids. I've had itchy feet of late and wanted to see a new city, so as Daddy is snowed under at work I figured I could brave an impromptu little road trip alone with the boys. I weighed up the possibilities within 2-3 hours drive and narrowed it down to Antwerp or Cologne. I've wanted to visit Antwerp, in the Dutch speaking part of northern Belgium, for years. I think it may stem from the whole 'capital of cool' vibe it's had going since the  'Antwerp 5′ days, when I was at fashion college and the fact that whenever I mention how much I love Brussels to a native Belgian and particularly any Dutch, they nearly always say something along the lines of "it's ok but Antwerp is better". It's also the home town of Baroque master painter, Peter Paul Rubens, so my expectations were justifiably pretty high.
Cologne was more of a wild card; I'd heard it was an elegant and attractive city with plenty to see, and in the spirit of fairness, I felt I should err on Germany's side as we've not visited so much of our neighbouring country. If it wasn't so impossible to book a budget hotel at short notice that's probably where we'd have gone, however, given Cologne's popularity as a business city, the 'budget-priced-minus-rodents' family-room options were limited, so Antwerp it was.
Roughly two and a quarter hours away, Antwerp is situated to the far north of Belgium, inland from the coast at the mouth of a vast port that still ranks as one of the world's busiest. It's a nice, easy drive from Luxembourg and aside from near hurricane-like conditions thanks to my timing the trip with a huge storm that has recently battered the UK and the western tip of Europe, was remarkably uneventful, though it is the first time I have driven a long distance on my own. It was fine until we hit Antwerp and I had a near panic attack when I found myself driving down a tram line, coming to a halt directly behind a stationary tram with no clear idea if it was about to pull away toward me or in the opposite direction (of course it went the other way). It's horribly disconcerting when you're not expecting it and only mildly relieved when you realize that the tram lines run down many of the roads and it's basically a bit of a free for all. Throw in an absurd amount of cyclists, with a devil-may-care confidence that says "I own the road", a road network that seems to be composed only of one-way systems and a GPS that DOESN'T RECOGNISE THE FREAKING HOTEL ADDRESS and you have a somewhat lively introduction to the joys of driving in Antwerp.
I'll save you any future misery right here. If you book into the Holiday Inn Express Antwerp North (and you should because it's a great hotel that's recently had a natty refit, is just three bus stops away from the action of the center and situated right next to the port) then you need to understand that your GPS will think the hotel is situated in a derelict ex-Renault showroom, on a slip road that leads only one way: into a mile long tunnel with no chance of a u-turn until you come out north of the river in the boondogs. I drove through the tunnel (and back) five times, I drove around the back streets leading off the main Italiëlei street for an hour and I couldn't even call the hotel because my phone uses a Lux-only sim. To make matters worse, I'd taken a somewhat cavalier attitude to our toilet breaks along the journey; i.e. I'd not stopped once. This meant that not only did the kids need to pee badly but 'mother of two kids with poor attention to Kegel exercises when it mattered' was now so beyond desperate, the gutter was looking a distinct possibility.
The hotel is actually situated down the road heading away in the opposite direction down Italielei, or perhaps I should say to the right, or eastern side of the ex-Renault showroom (there's a church next door to the showroom if that helps you to get your bearings). I had to park up in the back streets, let the kids pee in the gutter and then pray to the pelvic floor/social services gods as I left them alone in the car and jogged around and along the main road where I was able to actually read the street numbers and ascertain where to go. Impossible to do when driving around in a confusing filter system of traffic with tunnels and kamikaze pedestrian or cyclist action at every turn. The hotel receptionist cheerfully acknowledged this GPS anomaly and resulting tunnel shenanigans was a common occurrence and I felt marginally placated that it wasn't just my own utter stupidity. I only wish this was made clear on ALL travel booking sites (I booked through Link to Landing Page" target="_blank">Expedia). It's annoying enough getting lost when you don't have to pee, but it's infuriating and beyond vexing when you do.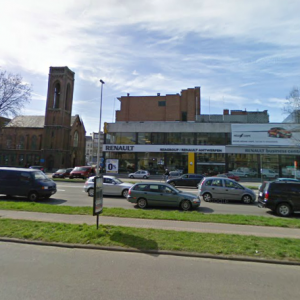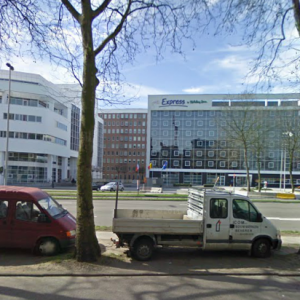 OK so the lowdown. Here's what we did:
The Zoo: We dropped our bags in the hotel room and headed right out again (it was about 3pm ish). The zoo is situated right next to Central Station so uber covenient. It aint cheap –  an eye watering 57 euros for me and the two boys – but it's a pretty decent zoo, and though many of the animals seemed to be avoiding visitors (we saw none of the big cats), there are plenty to see, the grounds are nicely manicured and there's a great kids' play area. Disappointingly, the planetarium part was closed, which irked somewhat given the entrance fee, but given we arrived towards the end of the day and whipped around somewhat quickly, missing some of the indoor parts, I'd say it's ordinarily worth a good few hours of your time, particularly if you plan on catching a few feedings or shows.
Click to view slideshow.
The Aquarium: Aquatopia is just across the square from the zoo next to Chinatown (alas, no, we didn't have chance to check that out). It's not huge, but the entrance fee is more agreeable and we really enjoyed the layout and atmospheric underground/submarine-like presentation that had the kids excited and a teeny bit scared at times (not in a bad way). Seeing a horseshoe crab was the icing on the cake for Henry who is going through a 'trilobite phase' right now and a shark tunnel is always a winner.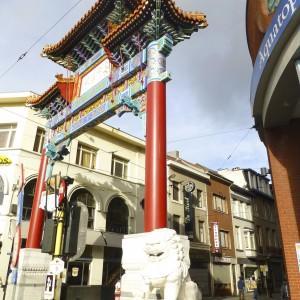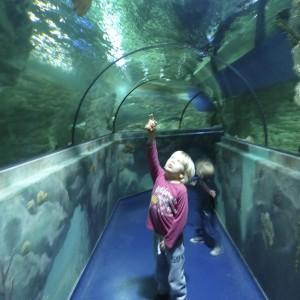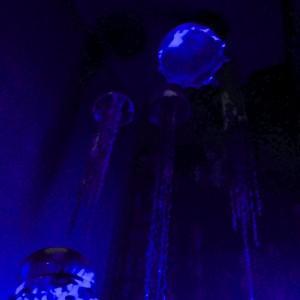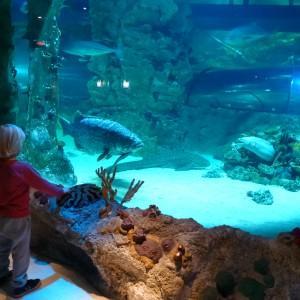 The Port: I loved this area. There's a hip and groovy warehouse-y vibe to Antwerp's docks, reminiscent of Butler's Wharf and Shad Thames in London, if a little quieter and still very much in the development phase. It was lovely to get a bit of sea air and hear  seagulls again. The hotel is actually situated adjacent to the inner basin and there are plenty of restaurants and bars around the area with the striking Mas museum in the center of it all.
Click to view slideshow.
Mas Museum (museum aan de stroom): Housed in a modern – and very red – building, this museum houses an ethnographic collection that celebrates life and culture both locally and across the globe. It's all really beautifully and artfully curated and exhibited and, had I not been with the boys I probably could have stayed for hours. But as worldly and interesting as it all was, I wondered if it was all a little over the heads of my young kids (and few English explanations so we were in the dark about much of what we were looking at). The last straw was when Henry was practically Rugby tackled by one of the guides who came running, quite literally, from the other side of the room while bellowing SHTOPPPPP, DON'T TOUCH THAT!!! I spun around to find Henry standing next to a huge marble statue of a reclining figure placed only too prominently in the center of the room, with no cordon. He'd touched it and she was NOT happy.
Ordinarily i'd bluster an apology (it's not unusual when you have kids under the age of 10) but this time I was a little more indignant because her response felt a little excessive and caused the entire room to turn to see what the commotion was. Particularly so as another guide  immediately ran up to provide a completely unnecessary 'back up' and I was now being faced down by two officious miseries who were clearly in no mood for testy visitors. I apologised but suggested they might do well to mention what had happened to the curators and suggest adding a cordon might be preferable rather than berating visitors in such a show stopping fashion. Or perhaps just don't exhibit things so openly if they are so precious (I do appreciate the need for preservation and I'd certainly have stopped him had I noticed, but it's stood the test of time for a few hundred years so I think it was pretty safe from a six-year old's finger). Pointing apoplectically to black lines painted on the floor around the base that were obviously intended to delineate the "off-limits" boundaries, she explained that they had to reprimand guests of all ages, every day not to touch, and were now clearly at the end of their already too-taught tether about it. Given the dim light in the room, the lines might have deterred an ultra-observant and naturally neurotic adult, but was no match for the more naive and inquisitive little paws of a six year old used to a brave new world of interactivity. She rather tartly suggested I email the museum management myself to complain because apparently they have refused to listen to staff. Sheesh. It must really suck to be a guide in an ethnographic museum when real, live humans poke the exhibits.
So, to the MAS Management: I'm really sorry but my kids are little sh*t bags and manhandled your Carerra (you should see what they do to my Ikea sofa). But you really need to think about how you exhibit your bits and pieces…or rather consider the wider audience to whom you are exhibiting – many are just not properly museum trained yet (heck, one of mine isn't even properly toilet trained yet). And give those poor staff a day off, the work pressure is clearly too much. That said, we did enjoy your splendid museum (it got a 'thumbs up' from Henry) and the views looking down over Antwerp are spectacular!
Click to view slideshow.
Central Station: If you thought NYC's Grand Central Station is the nuts, you need to see Antwerp's. It's gorgeous. A late Victorian domed masterpiece of industrial architecture that is awash with intricacy and detail and probably the most beautiful train station in the world. We popped in on the way to the aquarium, and I'd barely snapped a few shots on the Lumix when a film crew appeared and were wanting an interview about the building's magnificence. Yes, really. I did my best to oblige, but as I'd just pushed both kids in the buggy and had only recently sunk an espresso and two coffees over breakfast, I think I came over as a kind of panting, disjointed crackhead, albeit one with an endearing appreciation of late Victorian urban architecture. It was for local TV I believe, so if anyone catches it, you know not to call social services because my kids aren't in any immediate danger, I'm just usually a tea drinker.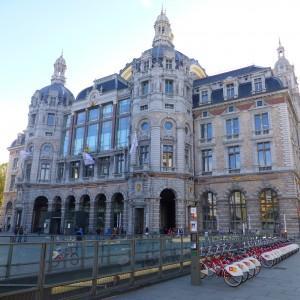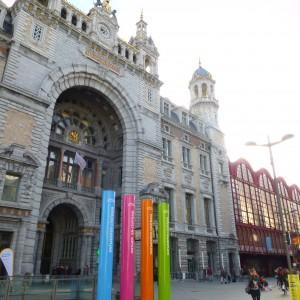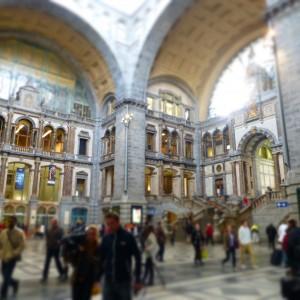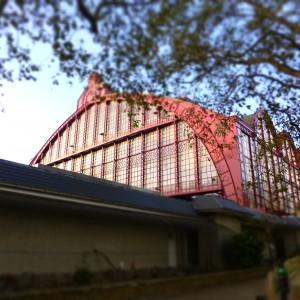 Historic Centre: this was more of a breeze through if I'm honest as part of our walkabouts to the Port from Central Station. Alas, young children do not give two hoots for Rubens, or old Cathedrals or baroque architecture. The old Medieval Grote Markt square with fountain at it's centre, is, of course, delightful; as are the shopping districts and meandering streets that surround, with a grand main shopping avenue and hipper boutique-y stores in the back streets. I popped my head into the cathedral which looked pretty awesome in the truest sense of the word, but at 5 euros a pop to go in and whiney offspring in tow, I settled instead for the briefest of glances inside and a shot or two of the exterior.
Click to view slideshow.
We ate: look, you don't want to know. My kids are horrendous eaters and any and all normal 'kid food' in restaurants is 'eurgh'. We dined on things like 'Belgian frites',  Macdonalds and a bunch of bread products, ice cream and waffles in between. So I hesitate to say that the Belgian Frites place near central station has surprisingly good frites (cooked in beef dripping if my taste buds are correct). Now, given my Midland origins (as in Midlands in UK) I can assure you that to find chips and gravy – and I mean real non-bisto meat gravy at that – was one of life's very happy moments for me. But, gourmet our meal plan was not.
Where we stayed: The aforementioned Holiday Inn Express North Antwerp is situated a 15-20 minute walk at the most from Grote Markt (at adult's pace) and three bus stops to 'Opera'/Central Station area (number 1 or 13 bus to be precise). The bus stops directly outside the hotel and drops off on the opposite side in parallel spot. It costs 2 euros per bus journey. The buses are wide enough for buggies and people who really like waffles and Belgian fries and the bus drivers are actually really quite pleasant. I know, crazy stuff huh? You've got the port and docks a mere five minutes walk too. It's the best location if you ask moi. The hotel's entrance, restaurant and lobby has just undergone a revamp and it now has a fresh and funky, modern vibe and the self-service continental brekkie is great and was included in our room rate (about 70 euros per night for a family room). The staff is fantastic too – very helpful and friendly. There's even a really natty shoe shine machine next to the lifts which kept the kids' amused in ways one could never imagine while waiting for, you guessed it, the lift. Parking isn't cheap (17 euros overnight) but then nothing in Antwerp is particularly cheap, and it's underground and very secure. Better still, sack the car off and get the train, you'll have no GPS woes and car parking will not be an issue.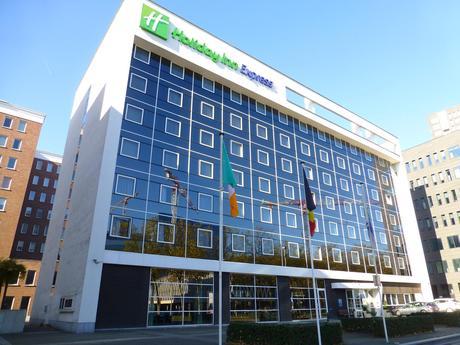 Overall, I'm really glad I've now ticked this multicultural and edgy little Port city off my list. It's pretty hip with a gritty-without-being-dirty kind of vibe. New Yorkers might experience a sense of deja-vu from all the Dutch influenced, lego-style,  roof gables and brick buildings. There are some really interesting modern elements in the mix too. It's less touristy, and more work-a-day than I expected, and probably geared towards more grown-up, hipster kind of fun, but certainly great for a couple of days, which is probably all most parents are looking for. One place we didn't have time to visit, but looked great fun, is Pirate Island; which would make for a good rainy day activity.
The biggest surprise was how different it feels to the French-speaking part of Belgium I am used to. The architectural reference points are there and there are elements which reminded me of Brussels, but the lack of spoken French still came as a shock, given Brussels is only half an hour away and it's the country's other main language. They might as well be in different countries, because it's all Dutch, with a little English, and the cultural influences feel so much more from the north rather than the south, which is to be expected given it's position I suppose. As I've never been to Holland, it was nice to experience a little whiff of Dutch culture merging with the land of beer and waffles.
While the central district is eminently compact and walkable where it counts, the public transport options to get you around everywhere are fantastic and plentiful (what's not to love about a tram?)  and so for families with young kids it's highly doable in that respect but while there are just enough attractions to keep them occupied for a few days, it all doesn't come particularly cheap (though the tourist office offers a Museum Pass for around 28 Euros which guarantees discounts on many museums – steep but probably worth it if you plan on visiting more than a few). While it hasn't managed to topple Brussels from its place as one of my very favorite cities, I'd certainly like to return to Antwerp again, but perhaps for a more grown-up adventure with hubby taking in more of the great museums and artsy stuff. He's better at navigating than I am and won't upset the native museum staff. Oh, and I'll be sure to make suitable toilet stops along the way first.