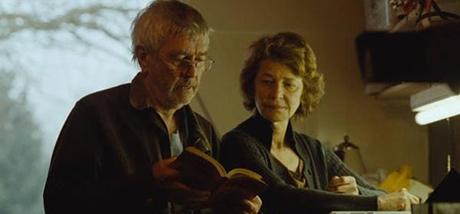 Not many movies today told stories about old couples. Mainly because it would be boring or bitter. Lots of old couples we see in the movies tend to be blunt or harsh to each other, not much emotion or love left. Unless, there's few of them still have sparks or at least still be kind to one another. I considered them to be a role model for couples, because if they can be kind after many many years, with all the problems and many phases of life, they should be given an award.
Kate (Charlotte Rampling) and Geoff (Tom Courtenay) is one couple that should be given that award. In 45 Years, their relationship is tested just days before they celebrate their 45 year anniversary. It's like any normal day when Geoff received news that his former girlfriend back in 1960s was found in a melting gracier in Switzerland. The accident happened when they were hiking. Suddenly, it becomes a topic Kate and Geoff couldn't ignore. Geoff started to talk and digging about his past. Kate mainly remain calm, but she couldn't escape her own worries when Geoff behavior started to change.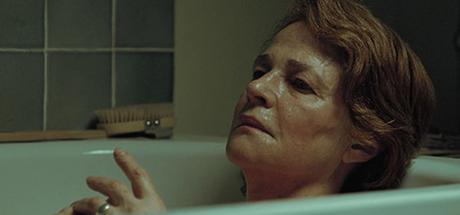 When you're doing great with your present life, sometimes past can disturb or tease you. Especially, past things that you haven't really had closure with. I don't have as many experience as Kate and Geoff in terms of relationship (or anything else maybe), but if you reached certain years of relationship, the problems should be bigger everytime. What happens if the problem is a 'ghost' or something you can't really erase from your life? The real mystery is how deep is Geoff's feelings for his girlfriend? Is it that big to quit his relationship with Kate?
45 Years is a simple movie, no music or sound in the background except real sound of the activity in the current moment. Yet their dialogues to each other didn't seem forced or scripted, as if you heard an old couple talk, which is a form of a secure relationship gained for years. It reminded me of Michael Haneke's Amour (2012), which is another story of romance for old couple. Except, 45 Years is a drama where Amour is a thriller movie. I didn't feel the movie is a drag or monotonous, because the movie contains such real drama you see from the characters.
There was something special in 45 Years I simply couldn't wash away. I loved their intimacy towards one another, I loved their politeness to each other, I loved their daily orderliness. The little things they do for each other just reflect how much they have been through after living together for years. I also loved their house and their quiet neighborhood. I loved Charlotte Rampling's fit posture for an old lady. And she really earned her Oscar nomination.
Spoiler alert!
I loved how 45 Years didn't twist its story to be too dramatic or intense, because real life sometimes can be as plain. Or better, old couples like Kate and Geoff know enough how to be with each other. They are trained and respect each other. They just have to know how to escape their misleading emotions.
Spoiler ends
This movie showed that the real struggle is in the mind, not necessarily too obvious in our actions. It was truly a soothing color for a movie, unambitious but captured its essence perfectly.
Score :