TAKEAWAY: This is part 20 of my occasional series 40 Years/40 Lessons, which I call a "sort of career memoir" capturing highlights and reminiscing about what has been a spectacular journey for me, doing what I love most.  Today's segment: all about one of my favorite nightly rituals: champagne.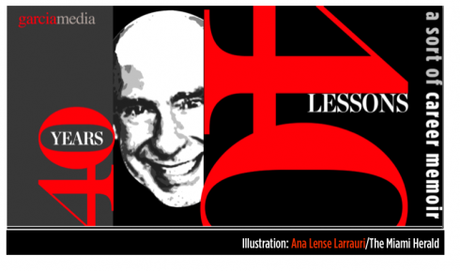 Illustration by Ana Lense Larrauri/The Miami Herald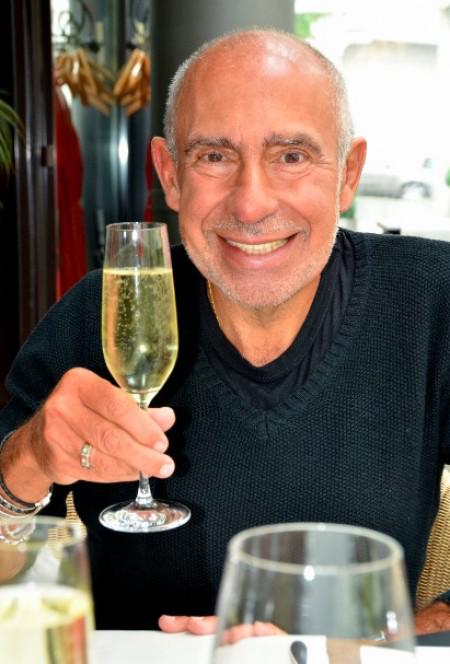 For reasons that escape me, but which I am sure I have promoted myself inadvertendly, people associate me with a glass of champagne in my hand.  It could be worse, I always remind myself.
Why the love affair with champagne?
I discovered champagne in my 40s, more than 20 years ago.  Until then, my contact with alcoholic beverages was an occasional and refreshing gin and tonic, which probably had something to do with coming of age in hot and humid Miami. Gin and tonics always guaranteed a "refreshment", better than Sprite or 7-Up and more sophisticated.  I think I had my first gin and tonic at a birthday party for a college friend when I was 20 years old. While most of the crowd at that party was drinking beer, and the occasional rum and Coke (Cuba Libre), I did not take to those drinks at all.  Beer, rum and hard liquor have never been my thing.
But, alas, along came that first glass of champagne, and it was not at a wedding. That would have been anti climactic.  My first glass of champagne, and I do remember the moment distinctively was aboard a Pan Am flight en route from Miami to Los Angeles.
Indeed, the glamour days of flying.  The stewardess in the light blue cap and uniform offered me a glass of bubblies right after take off for the five-hour flight and I gladly accepted.  It made me feel good, relaxed. I remember that I was listening to that great jazz singer, Diane Schuur, singing.
Little did I know at the time that I would be engaging in that ritual of three for a long time to come: sipping bubblies, flying and listening to jazz.
Today, at 65, millions of miles, thousands of glasses of bubblies later, and God knows how many more Diane Schuur and other jazz artists' songs later, I am not just still here, but the glass of bubblies is a nightly ritual.
A nightly ritual
At the end of each day I drink my glass of champagne, no matter where I am, and regardless of what the day was like.
I've grown accustomed to my bubblies, one glass a night, sometimes to celebrate a mega day, or to relax me after one that was not so good.  Bubblies can help you with both.
In a perfect world, I would have a bottle of Veuve Clicquot by my side; if it is super special, Veuve Clicquot Grand Dame.  But some Spanish cavas and Italian proseccos will do.
You look at the bubbles going up and down on that champagne flute.  You take a mini vacation from the day that was.  You do your own meditation and contemplation, and the rest comes easy.
In fact, as Leslie Caron sang in the film Gigi (1958), I I am convinced that "the night they invented champagne, t's plain as it can be
They thought of ….me."
The night they invented champagne
They absolutely knew
that all we'd want to do
Is fly to the sky on champagne
Like mini vacations, rituals that develop and nurture you over a period of time are good for you.  You don't need much help to carry them out once you have decided to pursue them.  In the case of bubblies, if I have company, the mini vacation turns into a grander mini vacation. But alone will do, too.
When 6 pm comes, I am usually ready for my time with the bubblies.  Of course, you must plan it. Bottles of champagne do not appear serendipitously.  My refrigerator at home holds more bottles of champagne than anything else.  I have reminded my four adult children that, if they are giving me a gift for any occasion, champagne is the answer. I do not need another tie, sweater, shirt or bottle of cologne.
A man my age is not in the process of collecting anything, except good memories.
The bubblies contribute to that.


1.Mirrors.
http://www.garciamedia.com/blog/articles/40_years_40_lessons_1—a_look_in_the_mirror
2.Refugee.
http://www.garciamedia.com/blog/articles/40_years_40_lessons_2—refugee
3.Teacher.
http://www.garciamedia.com/blog/articles/40_years_40_lessons_3—teacher/
4.Mentors.
http://www.garciamedia.com/blog/articles/40_years_40_lessons_4—mentors/
5.Consultant.
http://garciamedia.com/blog/articles/40_years_40_lessons_5—consultant/
6.Eagle.
http://garciamedia.com/blog/articles/40_years_40_lessons_6eagke
7.Abroad.
http://garciamedia.com/blog/articles/40_years_40_lessons_7._abroad
8. Books
http://garciamedia.com/blog/articles/40_years_40_lessons_8_books
9. Luck
http://garciamedia.com/blog/articles/40years_40_lessons_9_luck
10. Positive.
http://garciamedia.com/blog/articles/40_years_40_lessons_10positive
11. Culture
http://garciamedia.com/blog/articles/40_years_40_lessons_11_culture
12.Adapting.
http://garciamedia.com/blog/articles/40_years_40_lessons_12_adapting1
13.Dreams.
http://www.garciamedia.com/blog/articles/40_years_40_lessons_13_dreams
14. The Pitch.
http://www.garciamedia.com/blog/articles/40_years_40_lessons_14_the_pitch
15.. Ethics.
http://garciamedia.com/blog/articles/40_years_40_lessons_15_ethics/
16. Time.
http://garciamedia.com/blog/articles/40_years_40_lessons_16_time
17.Pause.
http://garciamedia.com/blog/articles/40_years_40_lessons_17_pause/
18.Stories.
http://www.garciamedia.com/blog/articles/40_years_40_lessons_18_stories

19.Boss.
http://garciamedia.com/blog/articles/40_years_40_lessons_19_boss
Today's pop up

TheMarioBlog post # 1013