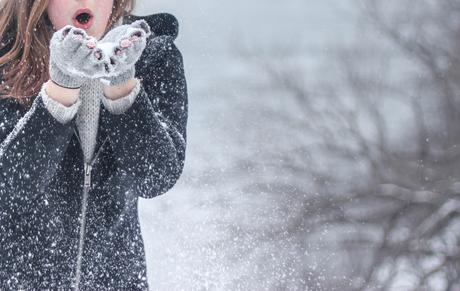 Winter's dark nights and cold weather shouldn't mean you and your camera should hide indoors. Far from it. With the change in seasons, now is the perfect time to see the world around us in a completely different light. This season, why not make a bucket list of activities to complete? Starting with these 4 winter photography project ideas…
Capturing A Fashion Blogger Shoot
This is the perfect time to step out of your comfort zone and try something new. Bloggers, especially fashion bloggers, are always looking to collaborate with photographers to capture amazing editorial-style images. By reaching out to local fashion bloggers using the #fbloggers across Instagram and Twitter, if you're new to fashion photography you could gain experience in a new field. Plus, you'll gain exposure on their blog and social media channels too. When it comes to capturing the iconic fashion blogger style, it's all about having the right equipment. The majority of fashion bloggers use a 50mm lens for fashion photos, as this lends itself to photos with a just out of focus background.
Taking The Family Christmas Card Photo
This winter, test your skills by organising a photoshoot with your friends or family to capture the classic Christmas card photo. Practice portraits against a snowy backdrop, or stage a festive set up in your family home. The key to perfecting this style of photoshoot is all down to the details, so make sure you check out the latest Christmas decoration trends. It might sound like a lot of effort, but it's lovely to have Christmas traditions and you'll love looking back on the photos in years to come.
Perfecting Food Photography
Make sure you have a photography project on your list that you can do indoors, just in case the the elements get too much to brave. Key equipment you require before cooking up your first dish is a tripod and a variety of kitchenware props. These props should add visual interest to your photos. If you find you've got a natural flair for this style of photography, then take a look at these tips for getting into food photography as a career.
Learning How To Shoot Frost
Frosty mornings and snowy landscapes can be extremely photogenic but they can be very difficult to photograph well. The best thing about this photography project is that you can take your time with it, as you're not working with models, or other people. Plus, you don't have to travel far to find frost-filled landscapes, or freezing subjects. On a cold morning there's bound to be frost on your car mirror, or the windows in your home. You could even check your washing line, or the edge of your roof for icicles. To ensure you get the best shot make sure the frost fills the frame. We suggest using a macro lens for detailed results. Don't forget to make sure you shoot at full aperture to sharpen up the frost.
What other things would you add to your winter bucket list? Do you love, or loathe winter photography – we'd love to know!