From birth, babies start to develop their senses. Whilst they obviously can't distinguish colours in the way an adult or even toddler can, there are certain ways we can help them learn and grow, even from their crib. One significant element is their sight. Everything your baby sees travels back to their nervous system, and you as a parent can take a number of steps to aid in their development. Their bedroom will become their personal space and can be used as a subtle introduction to their visual senses... 

Start with contrasting colours For babies to recognize colours, you can decorate the walls with different tones and through the use of lighting fixtures found on LampCommerce. You can create an easy and calming atmosphere for your child that is soft, and ideal for sleep you'd be pleased to hear. This then can be combined with a changing area where the lighting can change for daytime to night.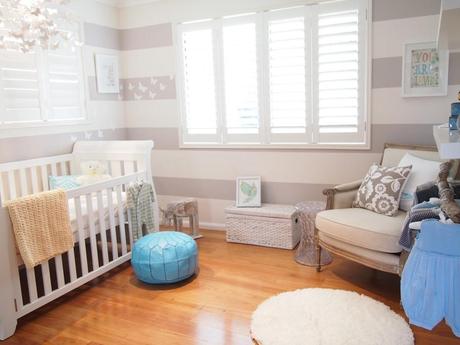 Easy ways to create a learning environment Using stripes in any way possible, from baby's clothes to the sheets with matching pillowcases, and you will find that your baby becomes responsive very quickly. Over a short period of time, their eyes will start to follow you around and be noting everything you are doing. There is no reason why your own clothes show a striped design maybe on a shirt or skirt. 
Lighting the bedroom at different times of the day Everyone will remark on how dark their home can become once summer is over, and that lighting is crucial in your child's room. No matter what size the space is, there should be a play area for active engagement and this should be well lit: overhead lights are perfect as they are out of harm's way and can be dimmed at any point. 
By the cot or bed, you can have a bedside table with a reading light that can be dimmed perfectly for those feeding times or when baby wakes in the middle of the night. This will reassure him/her as it will be a soothing, warm light. Around the bed area, the walls should be more calming conversely around the play area, brighter and more contrasting color schemes can be in play to stimulate. 
From baby to toddler and beyond Your baby grows sooo fast, adapting their first room to keep up with this growth can be a challenge but certain aspects remain the same. The colours and patterns on the walls will come and go; the furnishings will become more geared towards baby's development but keeping the lighting foundation, will indicate clearly that there are times to play and others to wind down before bedtime.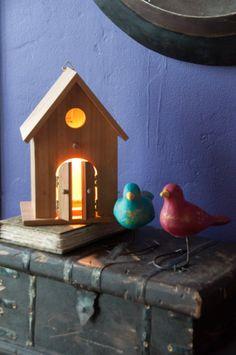 As the cot involves into a free standing bed, or perhaps even a bunk bed, there are so many designs that incorporate enterprising lighting decors to enhance reading pursuits when they are older, or for parents to sit comfortably while reading to the child. The touch lamp is a perfect example that is easy to use, safe and sturdy. Your child taps the stand to change the setting to brighter or dimmer at a whim. 
Stimulating baby through various growth stages is fun! 
x