Hi All,
It is the beginning of the year again, when I make my predictions for the future styles we will have available to us this year. I love this time of year for the pure fact that I can actually make predictions and see if the come true. I know that sounds strange when there is a back catalog of looks to fall back on from the runways of the world, but I like to come up with my own ideas to. We all know that the fashion weeks are just the starting point, from which the high street will inevitably catch up with at some point.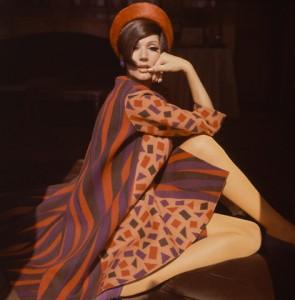 So here are 4 suggestions too keep your eyes on this year.
Pantone Colour Of The Year 2014 – Radiant Orchid
I love it when the latest color is released by Pantone, it means that we can start looking for our dresses, jumpers and trousers to match the latest shade. This years color is a glorious shade of purple or orchid, whichever you feel the most comfortable with. This is slightly more feminine than I would normally choose for myself but I am guessing that we are going to see this shade hit the highstreet fairly soon so I am going to have to consider how I will wear this shade. My first port of cool for this youthful shade has to be this pair of Converse – so cute.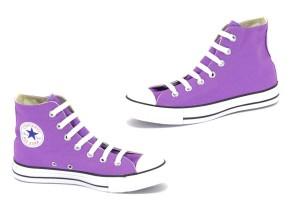 The Boxed Jacket
Another suggestion that I am seriously going to have to think carefully about is how I will wear the boxed jacket. For me, the boxed jacket is an extra design layer to the traditional spring denim jacket cut. However as I have broad shoulders  this may be one that I will avoid for this season, sticking to traditionally fitted blazers instead. If however you have an athletic or pear shaped figure then is a great option for you to stay bang on trend whilst keeping the spring chill off your arms. I love this Giambattista Valli Jacket, plus who doesn't love some tweed!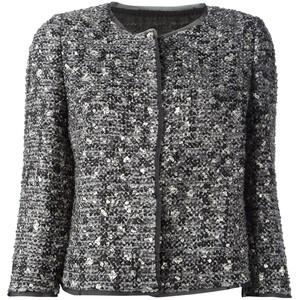 Contrasting Shirt Collars
Now, you all know of my love of dip hem shirts and I am going to continue this passion into 2014! I am not entirely sure that this cut will come back this season, but I am still going to push for them as they are so versatile. However, even if they never come back there are still things to look out for when we buy our blouses this year. The number one being a contrasting coloured collar – don't go as far as Harry Hills collars, but a cute peter pan white color on a black shirt is effortlessly cool. This one from oasap is perfect!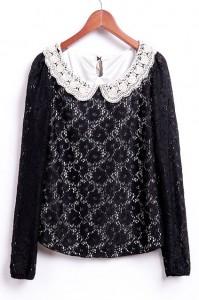 The Wide Leg Trouser
Finally my favorite for this spring, the wide legged trouser inspired by the 70′s and brought straight back into 2014. This is a wardrobe staple whatever your body shape and that is what makes them the best thing since sliced bread. They slim chunkier thighs, elongate petite legs, add curves to athletic figures and balance out apple shaped ladies. I am so thankful that they are back in the world I am going to celebrate with this pair from Asos.