I've been quite busy wrapping up some projects I've had in the works for a wee bit. I've put together three different journals and a new full color poster book, and all have been released within the last week! All are available through Amazon (direct links below). I must say I'm very happy with the look and feel of all these titles! The journals are very convenient as they are in the format of "a line a day" or "a thought a day" and have room to span over 5 years in one book.  Enjoy! ~ Sheila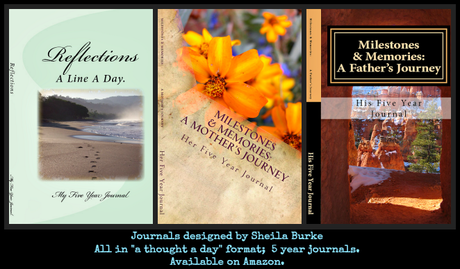 "REFLECTIONS"
and
"MILESTONES & MEMORIES"
are the perfect journals to fit into your busy lifestyle and are sure to be an invaluable companion on life's journey. Sometimes it's hard enough to find quiet time for yourself, therefore, taking the time to record memorable moments, life lessons, funny stories or an important milestone can be a challenge. They beautifully designed journals give you a space each day – providing the perfect opportunity to record your thoughts.
See how far you have come; See how much you have grown. Reminisce over a funny story in the future or pause at a poignant moment in your life.
Generously sized to accommodate your words and handwriting, all journals are 5 year journals – meaning that within a stolen moment in your day you can record something and compare your progress year to year. Each page also includes a beautiful inspirational quote for your enjoyment.  (Quotes inside Reflections are inspirational; Milestones & Memories are each filled with parenting quotes that are inspirational and comical.)
Also I've just released a new full color poster book titled WHISPERS OF THE SOUL.  Within the pages you will find my original art, photography and quotes.
All available now on Amazon:
Whispers of The Soul  (full color poster book)
Reflections (thought a day / 5 yr journal)
Milestones & Memories: A Father's Journey (thought a day / 5 yr journal)
Milestones & Memories: A Mother's Journey (thought a day / 5 yr journal)