___________________________
Halloween Treats
___________________________________
 Red Velvet filled Halloween Cake (professionally made)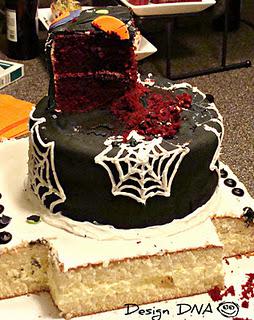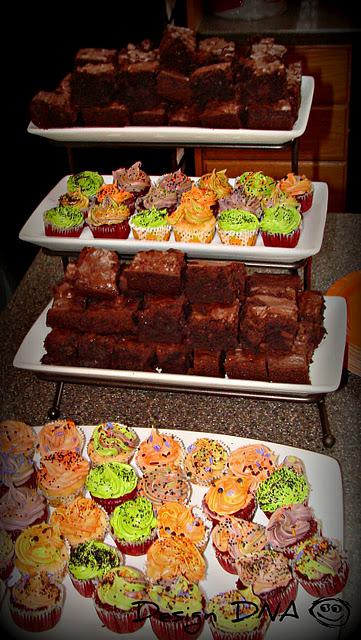 Mini cupcakes and Brownies
__________________________________

Halloween Snacks
__________________________________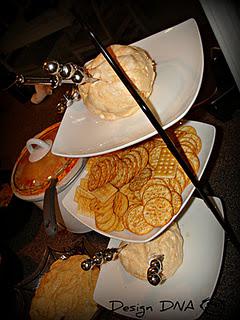 Cheese Balls in the shape of a brain 
Ingredients:
2 - 8 oz pkgs of cream cheese (room temp)

1 small onion diced

1/2 tsp. hot sauce

1/2 tsp. Worcestershire sauce

crushed pecans  (no nuts were used for these brains as so many of the kids had nut allergies)
Directions:
Pla

ce a piece of Reynolds Wr

ap with Saran Wrap on

top of it on counter so you are ready to transfer cheese ball to it to store.

Place a ll of the above ingredients in a lg. bowl. 

Mix all ingredients together with hands, folding cheese over and over until all the fluids are absorbed and all color is worked in.

Place mass on Saran Wrap.  Sprinkle with crushed pecans (or not)

Shape into a brain. 

 

Wrap tightly and refrigerate (best if made the day ahead) 
Other snacks (recipes to come)
Veggie Pizza
Apples and Carmel
Waldorf Salad
Veggies and Homemade Dill Dip
Buffalo Chicken Dip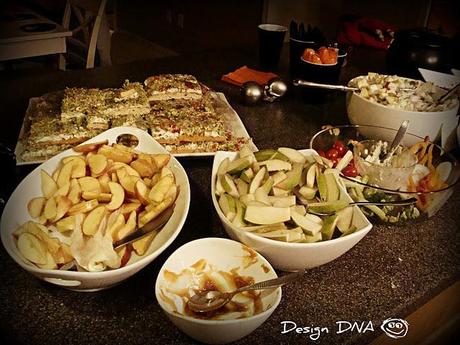 ______________________________
Spirits
_____________________________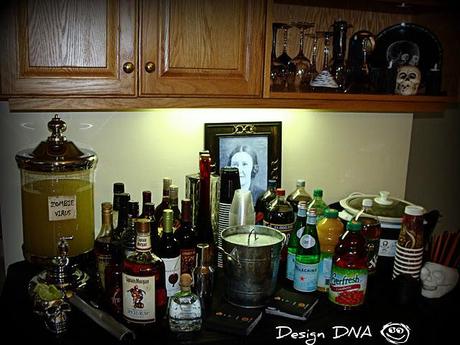 The "Zombie Virus" Margaritas were a huge hit this year!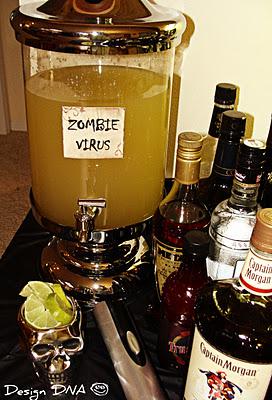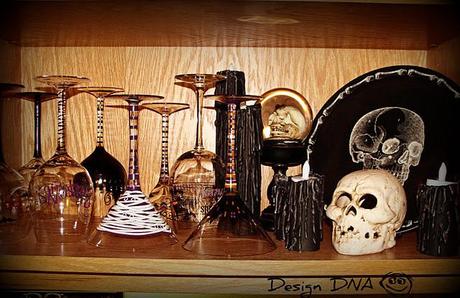 Halloween Martini Glasses * Toilet Paper Roll Candles * Thrift Store Plate
**One of my favorite adult treats this year were the
pudding shots!  
3/4 cup of milk
1 (3oz) small box instant pudding mix
1 (8oz) tub extra creamy whipped topping, thawed
3/4 cup of alcohol
Mix milk and liquor together then add pudding mix and whisk together or blend on low speed for 2 minutes.

Fold in whipped topping.
Pour into 3/4-ounce plastic cups with lids.
Best if frozen overnight.
Each recipe makes about 20 servings.
The best combination = white chocolate & peppermint !!