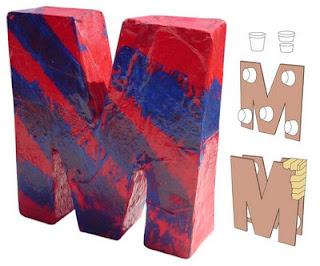 If you like those cool Pottery Barn letters but not the price, make your own.


1. My son's letter is about 9" tall. Start by drawing a big block letter on corrugated cardboard and cut out. Trace a second letter and cut it out also.
2. Get some styrofoam or similar cups and cut at least 5 to the same height and glue to one of the letters. When dry add glue to the edges of the cups, and in effect make a sandwich with the second letter. Make sure the letters are aligned so that it will stand and cover the edges with masking tape.
3. Mix up a batch of paper-mache and cover the entire letter with several layers of paper strips. If you really want a sturdy letter, have another mache session and let dry for at least a day.
4. Paint the letter with acrylic paint. I've found it best to paint the background first and then come back the following day to add details. When finished, paint with Mod Podge to add polish and protection for the paint.