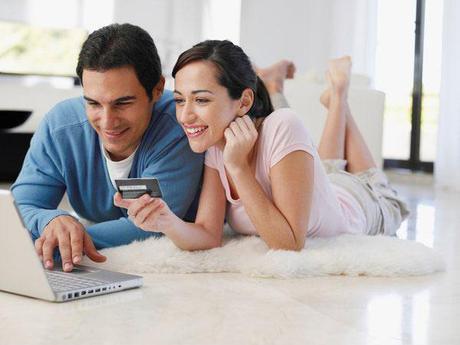 Shop and hop, VIRTUALLY!
The above results are supported by the rapid growth in Social Media users.  As per an estimate there are around 52.5 million Social Media users in India who visit more than 4200 million pages on an average.  This number is projected to be swelling at 100% growth rate.  The Social Media visitors consists the visitors of LinkedIn, Facebook, Twitter and more.
The Indian retail market business is surging forward fueling further the online business growth.  The figures below are self-explanatory in the context.
The Q411 BMI India Retail Report forecasts that total retail sales will grow from INR19.74trn (US$411.28bn) in 2011 to INR30.96trn (US$804.06bn) by 2015.
The retail sales growth is at 11.9% per annum.
Tourist arrivals rose by 8% in 2010 to 5.40mn, from 4.99mn in 2009.
The growth in the overall retail market will be driven largely by the explosion in the organised retail sector.
Domestic retailers such as Reliance Retail and Pantaloon Retail continue to invest heavily in increasing their store networks and improving in-store offerings, and the impact they have on growth will be boosted by the arrival of expansion-oriented multinationals.
BMI predicts that sales through Mass grocery retail (MGR) outlets will increase by 126% to reach US$59.8bn by 2015.
BMI forecasts consumer electronic sales at US$29.44bn in 2011, with over-the-counter (OTC) pharmaceutical sales at US$3.10bn.
The former sub-sector is expected to show growth of 78.5% between 2011 and 2015, reaching US$52.55bn, with projected double-digit growth of key products such as notebooks, mobile handsets and TVs. OTC pharmaceuticals, meanwhile, should increase by 88.1% throughout the forecast period, to reach US$5.84bn.
Automotive sales are forecast to increase from 4.07mn units in 2011 to 5.89mn units by 2015, an increase of 44.4%.
Domestic vehicle sales surged by a phenomenal 45.9% year-on-year (y-o-y) in October 2010, driven by a 22.0% increase in commercial credit (the fastest pace since 2008).
India's forecast market share of 13.2% in 2011 is expected to increase to 15.0% by 2015.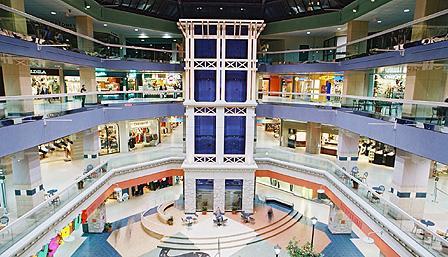 A Virtual Shopping Mall
The trends indicated above for retail market growth rate read along the growing trends in Social Media and Online Shopping present a huge business opportunity to embark on to online retail market opportunity.  One of the important constraints hither to for online users has been the inability to have near physical glimpse of the product they wanted to buy.  Now with the usage of 3D technology in building online shopping store, online retail users will have a walk through experience of their favorite retail outlet or shopping mall be it Big Bazaar, Food Bazaar, Pantaloons, Reliance Retail, Reliance Fresh, More Super Market, More Hyper Market or ITC Choupal.
The Hollywood movie Avatar is the best example for the users' acceptance on 3D Technology.  If not in total, we can implement 3D technology to create virtual retail stores and provide the best experience to online shoppers.
3D Shopping Store is a good business opportunity to existing retailers and to the aspirant business population.  An individual investor can start his Shopping Mall without going for huge infrastructure, huge space, long gestation time and big budgets.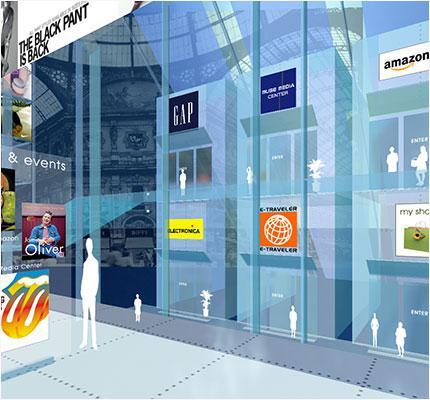 A 3D shopping mall
The advantages of going for a 3D Shopping Store:
Can be started with small store house at one or more places without going for huge shopping area.
Provides near physical 360 degree photo realistic view and the feel of a product and creates the sense of being within a real world location.
Provides virtual walk through of the entire store.
Saves from the physical movement of customer.
Interoperable with existing shopping cart or POS application with a small customization and integration.
Guarantees perfect accountability for return or refund as per the notified policy of the store.
Corporate friendly for bulk procurement of Gifts, Goods and similar.
Secured transactions
Provides the ability to engage with the customer through Messaging and chat based communication.
Allows your customer the opportunity to experience your product/environment online, heightening the desire to experience it in real life
Integrated with multimedia presentation applications from standard text information to fully interactive animations including audio and video.
The choice of using Avatars that can walk and talk which will attract and retain various user groups
Personal user applications for networking & user generated content
Business applications for e-commerce – sales, selling of advertising
Accessible with no extra software to install and fast loading with small streaming files
Client retention through membership log-on options
An independent platform which runs on all computer browsers
Affordable set up investment comparable to standard HTML websites
Content management tools for anytime in-house web site management
Face view navigation offers clear presentation of information, products and locations
3D Store is a real-time business opportunity for aspirant entrepreneurs who want to embark on to retail market.  This provides perfect small investment based opportunity to do business across chosen areas.
http://www.twitter.com/epmworld_hyd