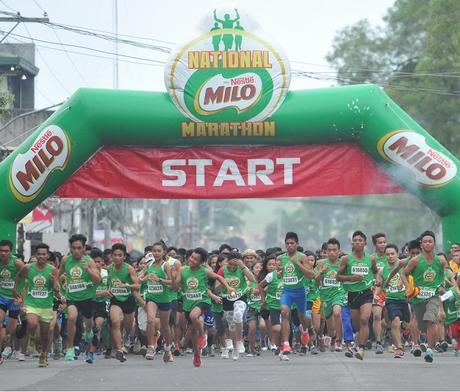 Reigning MILO Marathon Queen and SEA Games medalist Mary Joy Tabal and MILO Marathon veteran Juneil Languido breezed through the running routes at the National MILO Marathon qualifying leg in General Santos on Sunday. About 9,000 runners joined the race, making this year's MILO Marathon the biggest fun run in General Santos, to date.
Languido and Tabal each took home the top prize of P10,000 in cash and a trophy; and earned their slots to the National MILO Marathon Finals. The finals will be held in Angeles on December 6, where they will meet the nation's elite runners in a heated grand finale to claim the MILO Marathon King and Queen titles. To provide another level of prestige to the competition and incentive for the runners, this year's King and Queen will be sent by MILO to the USA on all-expense paid trips, for a chance to run in the prestigious 2016 Boston Marathon.
Languido posted a time of 01:14:04, overcoming his rivals Elmer Bartolo (01:16:47) and Gilbert Maluyo (01:20:42) who finished in second and third place, respectively. In the distaff side, Tabal ruled with a time of 01:21:42, relegating Mona Liza Ambasa (01:35:03) to second place and Noemu Andrea Galeos (01:52:44) in third.
The 31-year-old farms watchman has been running in the MILO Marathon for four years now, consistently winning in the regional legs. Last year, he placed first in Cagayan De Oro. This is his third time to win in General Santos. "My training for this race has not been that good, so I have to improve for the National Finals. My goal is to get into the top 10," shared Languido. "It would be a great achievement if I could accomplish it, because the MILO Marathon is where the best and the strongest runners compete."
Fresh from guiding her grassroots students who competed in the MILO Marathon Cebu leg, it was Tabal's turn to showcase her prowess on the race routes. It is the 26-year-old Cebuana sixth time to join the MILO Marathon, and she aims to defend her title in the National Finals. "It's my first time to race in GenSan, and it's a good experience for me to experience the other regional legs in Visayas in Mindanao," shared Tabal. "I joined this race as part of my training for the finals, to test my progress. So far, I'm on track in my training, but I'm continuously working on my conditioning to have a better chance of retaining my crown."
The National MILO Marathon is not only a breeding ground for local talents but also a program that empowers underserved children nationwide. With the support of the Department of Education and the National MILO Marathon runners, MILO's Help Gives Shoes advocacy will provide 10,000 underprivileged youth with brand new running shoes this year. MILO is working with DepEd in the selection of deserving public school student beneficiaries.