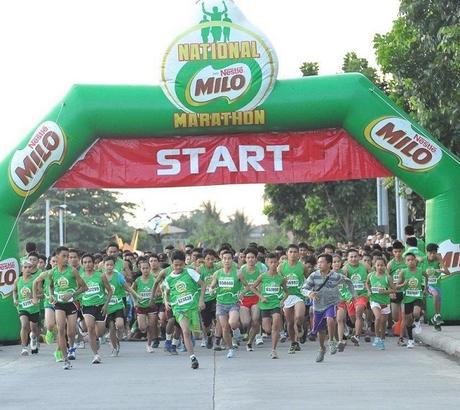 Davaoeños Sonny Wagdos and Judelyn Miranda grabbed the top spots of the 21K centrepiece event at the National MILO Marathon qualifying leg in Davao City on Sunday. The city known as the Crown Jewel of Mindanao saw about 8,500 runners grace the running routes in the biggest and grandest running event in the country. Reigning MILO Marathon King Rafael Poliquit, who is already automatically qualified for the finals having won the 2014 MILO Marathon tilt, also gave his legs a stretch out in the Davao race.
Wagdos and Miranda each took home the top prize of P10,000 in cash and a trophy; and earned their slots to the National MILO Marathon Finals. The finals will be held in Angeles on December 6, where they will meet the nation's elite runners in a heated grand finale to claim the MILO Marathon King and Queen titles. To provide another level of prestige to the competition and incentive for the runners, this year's King and Queen will be sent by MILO to the USA on all-expense paid trips, for a chance to run in the prestigious 2016 Boston Marathon.
Despite the challenging new race route, Wagdos excelled in his category as he posted a time of 01:15:25, beating his rivals Michale Achalico (01:15:56) and Manny Marfil (01:19:34) who finished in second and third place, respectively. In the distaff side, Miranda clinched first place with a time of 01:32:57, relegating Madelyn Carter (01:48:19) to second place and Hazelvic Villanueva (01:52:07) in third place.
This race is Wagdos' second championship crown in Davao. The 21-year-old 4th year student of Univeristy of Mindanao has been running since he was in elementary. "I got into running because I really wanted to study and finish a degree. I was able to get scholarships because of my passion," he shared. "I always have to focus on academics so I'm not always 100% in training. This year's race route is also quite difficult because of the uphill parts. Fortunately, I still won the race. I'm so happy.
Miranda, on the other hand, has won a total of six regional leg champion crowns - three in Butuan, and three in Davao. Like Wagdos, she has been running since she was a child, and joined her schools' track and long distance running varsity teams. She has been joining the MILO Marathon with her elder sister for 20 years now. "For this race, I trained in the mountains, so I was prepared to face the uphill route," she shared. "It was quite hard to balance my training time with my work shifts, so I am very proud of this victory. I would also like to dedicate this win to my uncle who just passed away."
The National MILO Marathon is not only a breeding ground for local talents but also a program that empowers underserved children nationwide. With the support of the Department of Education and the National MILO Marathon runners, MILO's Help Gives Shoes advocacy will provide 10,000 underprivileged youth with brand new running shoes this year. MILO is working with DepEd in the selection of deserving public school student beneficiaries.