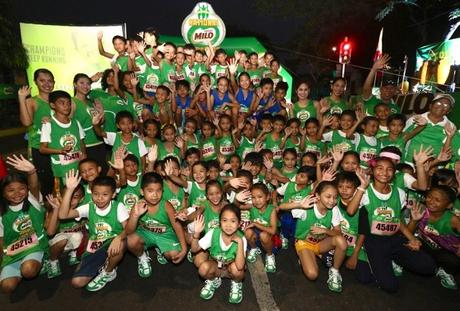 Noel Tillor and Ruffa Sorongon share the spotlight in the Cebu leg of the 39th National MILO Marathon held on Sunday. The pair captured the top spots in the 21K centerpiece events, amid tough competition. Over 24,000 runners took to the roads in the Queen City of the South. Having won the best organized leg award for three years straight, the Cebu organizers, led by Ricky Ballesteros, delivered its promise of a world class running event. Disco music was blasted, and festival dancers were stationed at strategic points to help motivate the runners. The Cebuanos worked hard to showcase their rich history, culture and hospitality, and create a festive atmosphere, making the Cebu race an unforgettable one.
Tillor led the pack with a time of 01:14:46, relegating Narceso Deterala (01:16:36) to second, and Adonis Singson (01:17:29) to third. In the distaff side, Sorongon bested her rivals with a time of 01:29:05. Miscelle Gilbuena (01:32:04) and Lizane Abella (01:42:58) complete the female division's top three, finishing second and third, respectively.
30-year-old Tillor, a local mechanic of Cebu, used the good weather and his knowledge of the race route to his advantage. "It was good that it didn't rain, so there was no friction on the roads. Honestly, it was difficult to prepare for this race because I couldn't take time off work. I only trained in the afternoons," he shared. "I was not expecting to win. My goal was to qualify for the finals. Now, I will definitely prepare for it so I can reach my target time."
Soromon, a full-time runner from Davao, clinched her third 21K title in the National MILO Marathon. In 2013, she placed first in the General Santos leg, and in 2014, she won in Bohol. This year, decided to join the Cebu race so she could meet her idol, Mary Joy Tabal. "Mary Joy is one of my idols, as well as the Jaro sisters. They are my inspiration for running," she shared. "For the finals, my aim is to reach the top 10. I will step up my training to achieve that goal."
Comendador and Ramirez each took home the top prize of P10,000 in cash and a trophy; and earned their slots to the National MILO Marathon Finals. The finals will be held in Angeles on December 6, where they will meet the nation's elite runners in a heated grand finale to claim the MILO Marathon King and Queen titles. To provide another level of prestige to the competition and incentive for the runners, this year's King and Queen will be sent by MILO to the USA on all-expense paid trips, for a chance to run in the prestigious 2016 Boston Marathon.
The reigning MILO Marathon Queen and SEA Games silver medalist, Cebuana Mary Joy Tabal, was also present at the race, together with her coach John Philip Dueñas. The running duo has been coaching 47 students under the grassroots sports program of the Cebu City Sports Commission. The 47 kids are recipients of MILO's Help Give Shoes advocacy. With the support of the Department of Education and the National MILO Marathon runners, MILO was able to provide these children with brand new running shoes, which they have already put to good use as they joined Sunday's race.
After teaching running basics for four months, the hard work of the running duo has truly paid off as one of their beneficiaries, Jessel Ochia made a herculean feat as the champion of the girls' 3K category with the time of 00:11:55. Two boys from the same race category, Carl Jhon Beboso (00:11:42) and Juvan Yongco (00:11:49) also made remarkable rookie performances as third and fifth placers, respectively.
"When I informed MILO that we're training young runners and requested for them to be included in the Help Give Shoes advocacy, MILO was very supportive in helping these children pursue their passion," shared Tabal. "It's truly a great feeling that we are able to give back, inspire and encourage children to not give up in chasing their dreams."
This year, the Help Gives Shoes advocacy will provide 10,000 underprivileged youth with brand new running shoes this year. MILO is working with DepEd in the selection of deserving public school student beneficiaries.