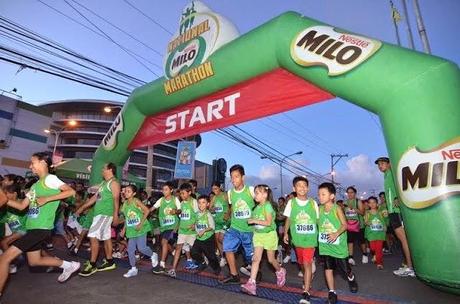 Mario Maglinao and Luisa Raterta trumped their fiercest rivals in 21K events at the 38th National MILO Marathon Eliminations in Naga City on Sunday. Each earned a cash prize of P10,000, a trophy, and a coveted slot in the National Finals.
Despite the high level of humidity during the race, over 9,000 runners rose to the challenge and exhibited their commitment and passion for running. 73 runners have qualified for the National Finals and will join Maglinao and Raterta as they go head-to-head with elite runners from across the country in Manila on December 7. The MILO Marathon King and Queen, to be crowned on that day, will be sent by MILO to Japan on an all-expense paid trip to the 2015 Tokyo Marathon.
26-year-old Maglinao posted a time of 01:12:47, besting contenders Martin Balaybo (01:13:33), and Eugin Postrado (01:16:43). The native of Legazpi City, Albay, who currently works in Manila, has not received any formal training in running. "Like swimming and biking, running has always been a hobby and passion of mine. I do it recreationally whenever I go home to Albay," shared Maglinao. "I didn't have enough time to train for the race because I'm always very busy at work, but thankfully I still qualified and won. I will adjust and train for long distance running to prepare for the National Finals."
Finishing with an impressive time of 01:32:10 on the distaff side is 33-year-old Raterta, outdoing challengers Janette Agura (01:37:41) and Marilyn Bermundo (01:40:59). Hailing from Laguna, the housewife also trains youth runners and considers her coaching as part of her own training as well. "The route was organized well this year, unlike before, when we would merge with the 3K runners that caused the slowing down of our pace," said Raterta. "It's always a challenge to maintain the proper pace throughout the race. I will focus on this as I train for the finals." Raterta had also won first place in the Manila leg, and second place in the National Finals of the 37th National MILO Marathon last year, among other awards.
The qualifying race will continue in Lucena on August 31, and will head to Puerto Princesa (September 7), Lipa (September 14), Iloilo (September 21), Bacolod (September 28), Tagbilaran (October 5), Cebu (October 12), Butuan (October 19), Cagayan De Oro (November 9), General Santos (November 16), and Davao (November 23). The National Finals will be held on December 7 at the SM Mall of Asia grounds in Pasay City.