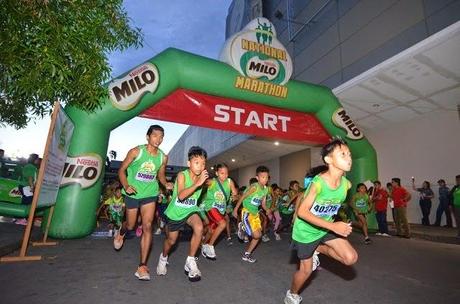 Philippine Air Force Airman Anthony Nerza and Philippine Army Private Janice Tawagin showcased their running prowess as they dominated in the 21K events at the Lucena leg of the 38th National MILO Marathon Qualifying Race on Sunday. About 10,000 runners joined the race, with 50 runners qualifying for the National Finals.
Nerza and Tawagin each earned a cash prize of P10,000, a trophy, and a coveted slot in the National Finals slated on December 7. Both will join the country's finest elite runners in their quest to clinch the MILO Marathon King and Queen crowns. As an added incentive, MILO will send this year's King and Queen to Japan on an all-expense paid trip to the 2015 Tokyo Marathon.
The runners were blessed with good weather and they surely used it to their advantage. The thrilling race saw Nerza finish ahead of Richard Salaño, who put up a good fight right to the final second. Nerza posted a time of 01:12:12, while Salaño clocked in at 01:12:39, finishing first and second place, respectively. Elmer Sabal came in at third place with a time of 01:16:07.
The 25-year-old Davaoeño, currently residing in Pasig, expressed his elation and relief in winning the race. "It was really competitive, my fellow runners were ahead of me in the first 100 meters, and I was falling behind. I thought I wouldn't be able to catch up, but thankfully I was able to do so and even won," shared Nerza. "I still have a long way to go in terms of my training. Every day, I run in the morning and in the afternoon. For the National Finals, I will add three-hour runs for endurance to improve my performance."
In the distaff side, Tawagin displayed a convincing victory with an impressive time of 01:29:59, relegating rivals Jeany Rose Hari (01:44:57) to second place, and Rose Ann Valencia (02:03:01) to third place.
The qualifying race will continue in Lucena on August 31, and will head to Puerto Princesa (September 7), Lipa (September 14), Iloilo (September 21), Bacolod (September 28), Tagbilaran (October 5), Cebu (October 12), Butuan (October 19), Cagayan De Oro (November 9), General Santos (November 16), and Davao (November 23). The National Finals will be held on December 7 at the SM Mall of Asia grounds in Pasay City.