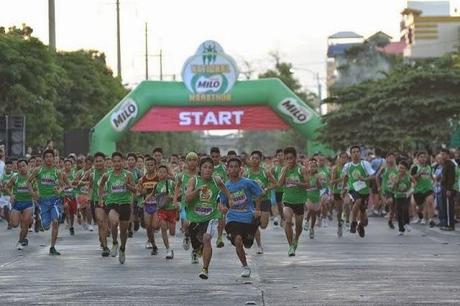 DAVAO City, Philippines – Sonny Wagdos and Judelyn Miranda claimed the top honors in the 21K event at the Davao leg of the 38th National MILO Marathon. Over 10,000 runners joined the last qualifying leg of this year's National MILO Marathon season. The Davao leg is the last qualifying race of this year's National MILO Marathon season.
Wagdos and Mirands each received a cash prize of P10,000 and a trophy, and will join the rest of the qualified elite runners in a heated finale at the National Finals in Manila on December 7, where the MILO Marathon King and Queen titles are up for grabs. The 2014 MILO Marathon King and Queen will also have the chance to run in the 2015 Tokyo Marathon, with all-expense paid trips to Japan sponsored by MILO.
Easily navigating the route and using the good weather to his advantage, Wagos clinched first place with a time of 01:13:59, beating rivals Michale Jan Echalico (01:15:03) who followed in second, and Gilbert Maluyo (01:18:13) who placed third.
The 20-year-old University of Mindanao student has been running in the MILO Marathon for four years now, but it is first time to join and win the 21K running event. "I feel so happy and blessed that I won, because everyone knew I never ran 21K before today. I didn't expect to win because at the start, there were many runners ahead of me. I attacked at the turning point, and thankfully, I won," shared Wagos. "It's an amazing feeling. After the race, a kid approached me and asked if I am Sonny Wagdos. He wanted to have a picture taken with me. He told me that he was amazed that I won, and watching me made him want to try running. It's heartwarming to know that I am able to inspire others, especially kids."
On the distaff side, Miranda finished impressively with a time of 01:33:55, outpacing fellow runners Madelyn Carter (01:49:43), and Daisy Joy Dayondon (01:58:09), who placed second and third, respectively.
Miranda, a 29-year-old native of Tagum City, also won first place in the 2013 Butuan leg of the National MILO Marathon. When she was younger, she used to watch her older sisters run, and seeing them engage in the sport inspired her to join them in the races. "My older sister Rosalie still runs with me today, and we are also joined by my son. He ran in the 3K race in Cagayan De Oro," shared Miranda. "I felt that my training for this race was inadequate because I was very busy at work and caring for my son. I only ran whenever I had the time. I also had a difficult time during the race because I experienced stomach cramps and had a hard time breathing in the last 15 minutes of the race. Despite all this, I am grateful to God for still giving me the chance to win."
With the support of the Department of Education and the National MILO Marathon runners, MILO's Help Gives Shoes advocacy will provide 16,000 underprivileged youth with brand new running shoes and reach the 50,000 mark this year. As MILO celebrates its 50th year, Help Give Shoes aims to make the donation to students in Yolanda-hit cities, particularly Tacloban, Ormoc, and Eastern Samar.