Making a rare visit to a near-empty Oxford Street, I had the opportunity to get a phtograph of this fantastic late-Victorian building unobscured by passers-by.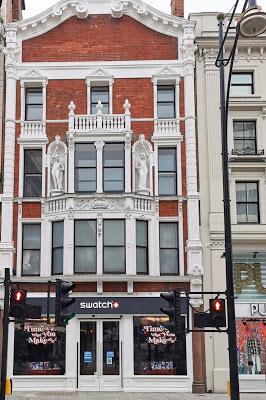 313 Oxford Street was built in the 1870s, and its stucco flourishes show some of the exuberance of the period. (The shopfront below is, of course, a much later alteration.) It is Grade II listed, and the listing text apprpriately describes it as 'eclectic'! 
Perhaps most striking are the statutes at second-floor level, and there is an intriguing suggestion in the listing text that they might originally have supported lanterns. A closer look confirms that both figures have an arm outstretched, perfectly poised for holding a light. In fact, their forearms are so elongated it's hard to think of another explanation!