If you thought $5,000 was too much for a gold Apple Watch (let's be real, most of us thought that $350 is a lot for the regular Apple Watch), then you're going to be shocked when you take a look at this diamond-encrusted version of the said watch and its price. You'll probably find the original cheap in comparison.
Namely, Mervis Diamond Importers is planning to launch an Apple Watch covered in diamonds, which will cost $30,150. To put it in perspective – that's more than some cars.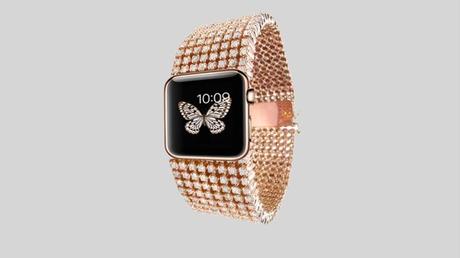 This Apple Watch isn't available for purchase yet, because its designers are waiting to see whether there are any potential buyers out there. But, you can pre-order the watch on the company's official website. Jonathan Mervis, a spokesman for MDI, said that there will probably be five to 10 limited edition models, and that the company is doing this without Apple.
The watch will come with eight rows of round diamonds, and will be available in rose gold, platinum, and white gold. The pricing details are yet to be released.
What do you think about this watch and its extravagant price?