So after nearly a whole month of neglect... I have set my self a challenge... to blog each and every day in September!
August was a crazy, hectic, busy month!! Liz and I have completely renovated the shop...
The Kings Meadows Florist has had a face lift... and it looks amazing!!
We chose beautiful natural colours, cream, latte & a rich earthy chocolate. I will take some photos tomorrow to share with you all in tomorrows post.
Wedding Season also started in August! I was so very excited and happy with the finished result.
Ben has taken some photos of the flowers for me, he took them just as I was checking the bouquets & getting ready to pack them for delivery.
The Bride, Colleen, was just a pleasure to work for, she was so easy going and happy to listen to any ideas I had... Colleen wanted all of the flowers to look as though they had been "picked from a beautiful garden" I especially loved making the bridal table arrangement... I created the base with lots and lots of Jasmine which gave it a beautiful garden feel.
The Sun was shining on the day, and I can not wait to see some of the photos!
The Bouquets were made up of "Jacques Pink" Roses, "Bingo White" Roses, White Freesias, Cream Snap Dragons, Dusty Miller foliage, Little Gem Magnolia and Pepper Berry Foliage
The reception was held at the Colonial Inn on Elizabeth Street. A huge thank you to Carissa, her organisation on the day was just wonderful! I had table arrangements to set up, as well as the cake & cupcake stand and the bridal table. She made sure everything was in place before I arrived and was even poping down to Target to get more candle plates as the Bride has miscalculated how many she needed!! Her service and dedication was just so wonderful to see, as I don't always find people like her organising receptions.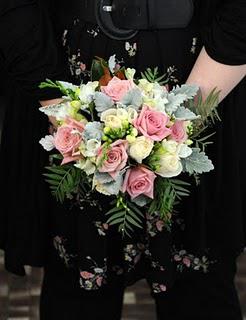 Bridal Bouquet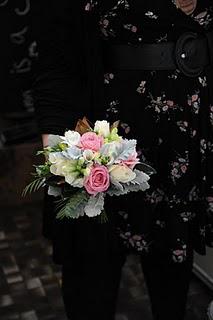 Bridesmaid Bouquet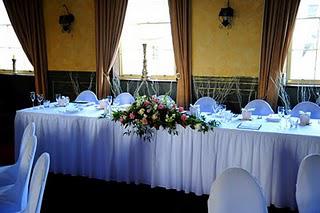 Bridal Table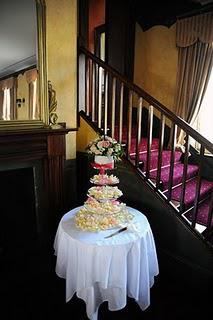 Cake & Cupcake stand