You can find some truck driver carrying a bulk of loads on the back of a trailer and it may seem relatively easy for you, but the inside story is something different and it is much difficult than it seems. Cars can be a perfect example of this. From a commercial car hauler to a truck driver who carrying 4,5 or 6 trailers on the back, hauling cars appears to be much more challenging than it looks.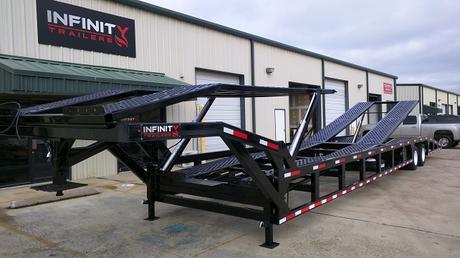 Infinity Trailers deals in a wide range of high performance open car hauling trailers suitable for use in jobs requiring transit of 4 vehicles simultaneously.
" data-orig-size="642,361" sizes="(max-width: 642px) 100vw, 642px" data-image-title="4 Car Hauler" data-orig-file="https://infinitytrailersblog.files.wordpress.com/2018/10/4-car-hauler.jpg?w=700" />
Drivers will not only have to ensure the security of the cars of the car but will also have to make sure that they do not get damaged by any means even in extreme weather conditions. The truck driver must use the appropriate equipment like the winches, or car hauling straps to make the hauling task easy. The car hauler manufacturers build truck and trailers with all these equipment and tools attached, they are tested and are capable of offering the maximum comfort and security while driving.
The guideline showcases three of the nightmare that car trailer drivers can face and along with that possible ways have been defined to overcome such issues.
Oversized Tires
Oversized tires check the stability, not only that, they raise the center of gravity when the truck being hauled and it is on the route. However, the problem can be fixed, for that, you need to apply webbing straps with ratchets and swivel hooks, thereafter apply some force to keep the tires in place. A side mount wheel net can be an effective solution if you find one having the right size.
Oversized Frames
A truck or a trailer can post a greater threat if it has got oversized frames. For overcoming the solution, you will need to secure the tires. Drivers will need to secure their trucks with the oversized frames at the axles so that they stay in place. Axle straps with rings are the perfect tools for carrying such heavy cars on the trailers. Even if you wish you can anchor your truck at four points, or required, even six or eight. If all these sound difficult to you, seek help from the professionals. The professional car hauler manufacturer builds truck and trailers keeping all the security in mind and you do not have to worry about the oversized frames.
Costly Cars
Car haulers need to move expensive cars across open highways, now so extra care should be taken, any kind of accidents can lead to serious damage to the cars, and this can incur a heavy loss. So, the truck driver needs to be attentive all the time. He or she will have to maintain a full supply of straps, tarps, winches or any kind of supplies that are necessary to be transported to ensure safety and client satisfaction. However, with the aid of the professional car hauler manufacturer you need not worry, the trucks and the trailers are made in such a way you do not have to worry about any kinds of mishaps on the roads, also they offer a full guarantee of maintenance, so a trailer driver will just need to focus on driving only.
Car trailing has never been so easy, seek help from the professional car hauler manufacturers. You can find many of them in the United States, choose service from anyone you feel convenient.