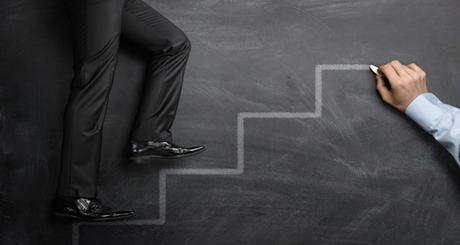 April 28, 2016
0

Email This Post

Print This Post
3 Steps for Successful Marketing and IT Collaboration
When it comes to the most effective way to architect, execute and measure digital initiatives, marketers and their information-technology counterparts seldom see eye-to-eye.
Mismatched expectations and attitudes come into play, along with some natural left-brain/right-brain differences, according this widely read 2015 Benchmark Study of 131 U.S. marketing and IT executives.
Measuring the Digital Divide
Thirty percent of marketers polled expressed optimism that relations with IT would be collaborative and productive, while just 13 percent of IT respondents said so. Twenty percent of marketers agreed that working with IT has 'significantly improved' alignment between the two functions, whereas a mere four percent of technologists felt the same.
However, a clear majority–63 percent–did agree on the likely root cause of their differences: namely the misalignment of cross-functional metrics and goals.
"IT professionals measure success based on functionality," observes Northwestern University's Jim Carey, the study's chief architect. [For example], if the website is up and running or the company's mobile app is working as it should [technically], then all is well, from IT's perspective.
Marketers, however, gauge success against both the public's brand expectations and customer-experience standards set by industry leaders (like Amazon, Apple and Zappos). So something IT leaders perceive as a roaring success, experience-focused marketers may view as a big disappointment. So much for collaboration.
But wait, there's hope.
Sage Advice from One Who Knows
Motorola Solutions' exec Eduardo F. Conrado, the rare bird who oversees both Marketing and IT functions, acknowledges such differences, and describes steps he's taken to help his groups collaboratively combine forces:
Break Down the Siloes–Conrado says that IT may be so focused on back-office (e.g. transactional) functions that they forget about customer-facing systems that impact both marketing and sales. Bringing the teams together into the 'front office' (and under a common manager and budgeting authority) "naturally diffuses tensions and increases collaboration," he claims.
Challenge Assumptions–Conrado feels that the 4 P's of marketing are outdated, and that B2B companies should shift to the A.V.E. model (solutions, access, value and education)–which again "starts with customers and backs into the solution and how we solve their problems."
Jointly Map Out the Customer Journey–Start with customers (not the IT solution) and, together, identify all company touchpoints and interactions. "Marketing designs the customer journey, in conjunction with IT, so that the technology and customer goals are always moving in lock-step."