Home Improvement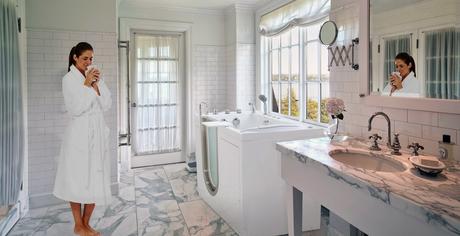 Something that you commonly hear when reading or hearing about walk-in tubs is how safer and easier they are to use than a traditional tub. But what does this mean? How exactly are they safer than using a traditional tub? There are certain differences between these tubs that make them safer for someone that suffers from mobility issues. Here are some of the reasons why Jacuzzi walk-in tubs are safer than traditional bathtubs.
Height of the Tubs
The most dangerous part of using a traditional bathtub for anyone is getting in and out. The typical traditional bathtub has a height of 17 or 18 inches. You have to climb over that height in order to get in or out of the tub, regardless of if it's filled with water. Meanwhile, the floor is quite slick, potentially causing a dangerous fall. A walk-in tub features a door that eliminates the need to climb over the edge of the tub. This makes it much easier and safer to enter and exit the tub. This is very important for someone with mobility issues that will have more trouble getting their legs up to that height and is at a greater risk of falling in the process.
Balancing
Part of the problem with getting in or out of a traditional tub is getting your legs high enough to climb over the edge. The other problem is that you need to balance on your one leg while getting in or out. This can be a problem for anyone but an even greater problem if someone suffers from mobility issues. A walk-in tub features a door that will allow you to easily walk in and out of the tub without balancing on one leg. The floor might still be a little slippery but these tubs also feature non-slip flooring and grab handles. That provides greater safety when balancing on one foot as you move about your bathroom.
Changing Position
When you suffer from mobility issues, it can be difficult to get upright from a lying position and from a lying position to an upright position. This is problematic with a traditional tub because you need to reach that lying position. One of the big advantages of a walk-in tub is that they feature seats of various heights. Rather than lying down in the tub, you can sit in a seat of your desired height. The water will still reach your chest or shoulders but will make the bathing experience much easier and safer.
A traditional tub can be difficult and dangerous to use for a person that suffers from mobility issues. These are three ways that using Jacuzzi walk-in tubs are safer and easier than traditional bathtubs.