So your best friend has just got engaged and as her best friend / sis­ter or close fam­ily mem­ber she has asked you to be her chief brides­maid. Amaz­ing! This is a great role in the wed­ding party, but it is also one of respon­si­bil­ity. To make sure you enjoy the lead up to the big day and the wed­ding itself, here are some great tips on what you should know as the chief brides­maids or maid of honor.
1. Know your role
It's so excit­ing to be chief brides­maid and it makes the prepa­ra­tions all the more fun, so it's best to know what you're the bride to be is expect­ing you to help with. Maybe have a chat over cof­fee and ask her what she would like you to organ­ise, help with or be there for. It could be she only really wants you to plan the hen party, or it could be she expects you to attend all her dress fit­tings and be her right hand women in all aspects of the wed­ding plan­ning. Hav­ing a list of your respon­si­bil­i­ties that you and the bride to be have agreed is a nice way of get­ting involved with­out over­step­ping the line.
2. To Hen party or not to Hen party
Usu­ally one of the main roles of the chief brides­maid is to organ­ise hen week­ends, so you will want to be able to answer the ques­tion 'what kind or hen party would she like? There is so much choice out there from choco­late mak­ing to seduc­tion classes. If you want to plan it as a sur­prise, a great tip is to cre­ate a hen do scale with activ­i­ties from hot to cold. Hot being a strip­per show and club­bing night and cold being a spa week­end away. Get the bride to score where she would like the hen party to sit, which will give you an indi­ca­tion of what she has in mind, but keep­ing the exact details until the day.
If you're feel­ing super cre­ative, then con­sider mak­ing a few hen party mood boards, based on the themes you think she will like the most. Cut out pho­tos from mag­a­zines with décor designs, food and drink recipes and color patches and let the bride to be pick the one she likes the most. Why not get all the hens involved and see what every­one comes up with?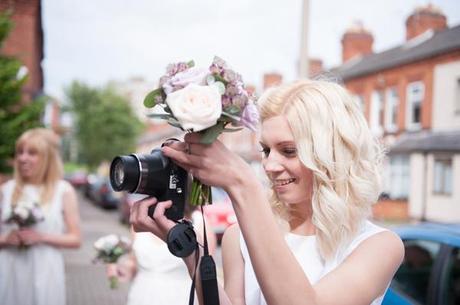 Photo credit Geoff Kirby Pho­tog­ra­phy http://www.geoffkirbyphotography.co.uk/ — click to see the full wedding
3.
WWBD
As the chief brides­maid you might be expected to make deci­sions on behalf of the bride, espe­cially on the wed­ding day. There will be lots going on and there may be wed­ding sup­pli­ers ask­ing where to place flow­ers or what time you want the canapés ready. This is when you want to be think­ing WWBD (what would the bride do) and help to make deci­sions that she may be too busy or not want to have to deal with.
I hope these ques­tions and ideas will help you to be a super chief brides­maid if you are already one or if in the near future you become one. Also If you have any ideas you can sug­gest please leave a com­ment below , I would love to hear them.
Rebecca is an event organ­iser at Chillisauce.co.uk who speaks to thou­sands of brides to be, maids of hon­our and chief brides­maids, and is well equipped to offer advice and ideas on hen parties