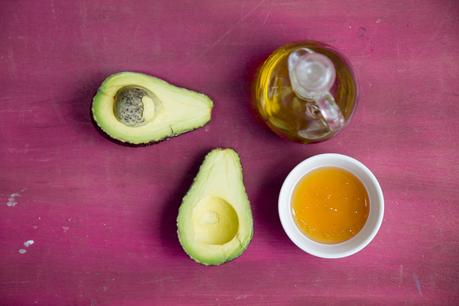 When our hair gets brittle and starts to fall, it nearly breaks our heart. There are many natural ingredients provided by nature to solve these problems that we face. And those moisturize providing ingredients include coconut oil, olive oil and honey that top the list and provide intense moisture.
You can make a mask with easily available natural ingredients that will moisturize and nourish your hair and undo the damage caused by pollution, diet and other lifestyle factor in our life today.
Ingredients to make the nourishing hair mask:
Avocado – 1
Honey – 3-4 Tablespoons
Olive Oil – 6-8 Tablespoons
How to make the mask?
Mash the avocado with a fork.
Mix in the honey and olive oil gradually.
Mix well till properly combined.

Apply this mask starting from the root of your hair, along the shaft and till the ends of the hair.
Leave the mask on your hair for half an hour till it sets.
Wash your hair as normal.
Repeat as required for nourished silky smooth hair that breaks less.
The rich moisturizing power of avocado and olive oil joining forces with honey transforms your dry, dull and brittle hair into sleek, smooth and shiny strands.
So undo any damage to your hair with this simple to whip up hair mask that has no side effects.