I've never really had much luck with carrots. The first year I planted them in the roots bed, but they were annihilated by carrot flies. I'd even covered them up with an old bit of voile I had floating around (Cunning plan #1), but to no avail. The odd few that avoided the assault came out odd shapes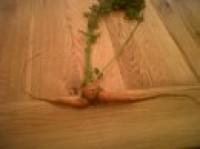 The showgirl carrot - Ooh la la!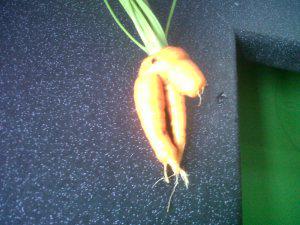 The showgirl carrot's best kept secret!
I then  read somewhere that carrot flies can't fly above a foot off the ground, so Cunning plan #2 came into play. I planted them in an old water butt that was a good metre high. I must have had SAS carrot flies in my garden, because once again, they were gnashed to pieces.
So, for two years I've either grown carrots that Esther Rantzen could have had good air time with, or ones that were so full of holes, they'd make excellent  flutes for bunnies, but rubbish snowmen's noses…
It was now time to bring in the big boys. It was time to execute Cunning plan #3. This week I took delivery of three varieties of seeds that are resistant to the little blighters. If all goes to plan, I'll be eating carrots for breakfast, lunch and dinner. With cake for afters. After all, I have 3500 seeds to get through!
If you liked this, please share