You know that in my last post, I made some fresh chervil pesto dressing & I had leftovers so I used it all up the next day & created this lovely easy spelt pasta aka penne pasta dinner with bacon, of course!
This meal for 3-4 persons is made within 15 minutes so check it all out here: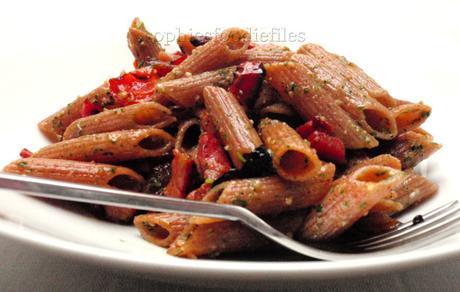 A divine pasta dinner!
So, let's see how I made it. I used wholemeal spelt penne in here because I thought that the chervil pesto would go nicely into the hot penne tubes & I was right. I added some white onion slices & diced up 1 sweet red bell pepper & used some added smoked bacon in here. Easy & divine,…ooh yay!
Recipe: For 3-4 persons
Ingredients:
300 gr wholemeal spelt penne
1 large red bell pepper ( paprika), cleaned, deseeded & white bits removed, cut up into chunks
1 small white onion, peeled & finely sliced up
200 gr good quality smoked bacon pieces (I used Herta)
black pepper
pink salt in a grinder
a good fruity extra virgin olive oil
about 3-4 tablespoons of that fresh chervil pesto dressing, from the evening before
Method:
Cook your spelt penne according to your packet instructions. My penne was cooked for 8 minutes. Drain well. Now, add 3-4 tablespoons of the cold chervil pesto dressing to the hot pasta. Mix it well into the hot pasta & into the tubes. Place fitted lid on & set aside.
At the same time, drizzle a bit of that fruity oil into a large non-stick pan & heat up onto high. When hot, add slice onion & red bell pepper pieces. Fry for about 8 minutes or until soft & browned, stirring often. I seasoned it all with 12 grins of black pepper & 8 grins of pink salt. When ready, transfer it to a clean bowl with fitted lid. Using the same pan, heat up. When hot, add smoked bacon pieces & fry until browned & crunchy. This took me only 4 minutes. Now, add veggie mix back into the hot pan & stir round. Add veggie-bacon mix to the hot pesto penne & stir it all through. Check the seasoning one last time & serve instantly with a loved one. This is a divine easy pasta dinner to use up leftovers, the easy & delicious way!

Now, there is no pesto leftover anymore! xxx Enjoy, sweeties! ;) Stay Tuned! If you liked this post & want more of them, join 1,500 email followers to get my new cool email newsletters! Subscribe by email! It is free!

Follow Blog via Email

Enter your email address to follow this blog and receive notifications of new posts by email.

Sophies Foodie Files

Tagged: Egg - Free, Pasta