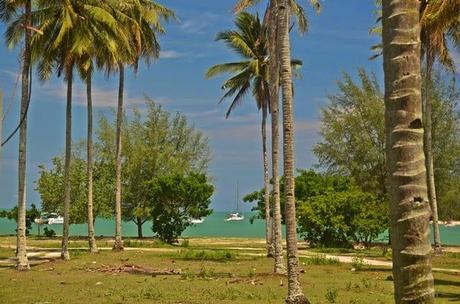 On May 22, a military coup displaced the elected government in Thailand. They enacted martial law, put a curfew in place, dispersed protests, and quelled media. On May 24, we entered Thailand for a tourist visit.
Did we have to go? Well, Malaysian visas for the kids and I were about to expire (Jamie had a month left, because he'd flown to Singapore for rigging work in March). We had expected head south on Totem several weeks before, but ongoing delays on our engine service made it impossible. We could have applied for a 'hardship' extension of 30 days, or… we could go to Thailand for a short visit, and with new visas issued upon return.
Was this rash or risky, given the military junta now in Thailand? I never felt that the political situation placed us at risk. I did read up on the issues and news reports, and had insights from a friend, and found nothing to dissuade us. The media loves drama, so if this even made a blip on your news at home, you probably saw a skews perspective that played up military types in camo on the streets of Bangkok.
Our bigger risk was the active separatist rebels in south Thailand, a completely unrelated movement which has been ongoing for years, and hasn't done anything to damage south Thai tourism. So when the choice was 1) go to the Malaysian immigration office to plead our case and hope to be granted a 30 day extension (or, have to leave immediately) OR 2) take a ferry up to Thailand, play tourist, eat good food, and come back with possibly 90 day visas- it was a pretty easy decision. The cost, incidentally, wasn't terribly different.
It's more fun with friends, so the kids and I teamed up with our mates from another "kid boat" in the same situation- so with seven kids and three adults, we packed ourselves off to Satun for an overnight jaunt. Here's a photographic journey through our 24 hours.
On the ferry from Langkawi: nothing like being forced to watch movies that are totally inappropriate for kids! This one revolved around the thin threads of several love stories- interspersed with drug running and gruesome violence at the hands of the Thai mafia. At least it was in Thai, and the kids were more interested in talking to each other than reading the subtitles.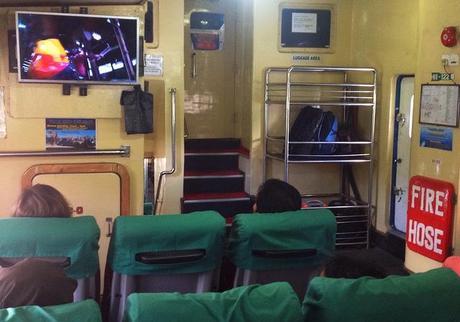 In Malaysia: we were shuttled to/fromt he ferry in an air conditioned minivan with cushy seats. In Satun: a songthaew- basically, we sit on narrow benches in the back of a covered flatbed truck. Welcome to Thailand.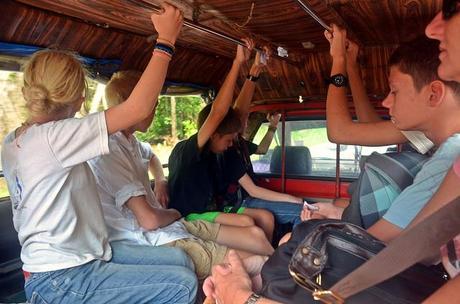 After checking in to our guest house, we went in search of lunch, and passed the police station. No signs of life. Martial law? Clearly not a lot going on here.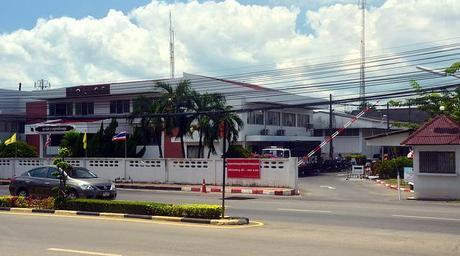 The kids weren't interested in revisiting temples, so they stayed behind at the guesthouse to play cards. I never get tired of visiting temples, and had plenty to choose from.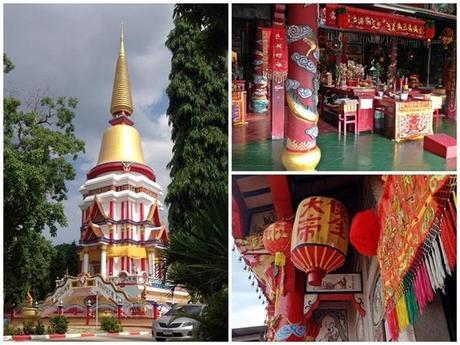 It was stinking hot, which inspired me to finally chop off my hair. Why not? The salon staff all wanted selfies with me: I went for the group shot. Good bye long hair!



Later in the afternoon, an ice cream "truck" stopped by the guest house. Irresistible.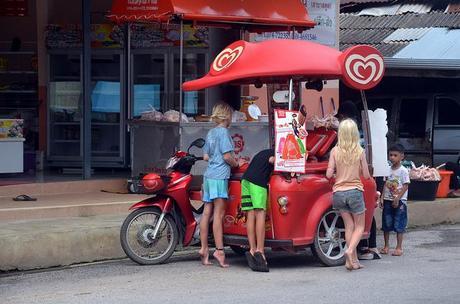 We picked the date to make our journey based on the fact it was the weekly  night market, a.k.a. festival of amazing street food. One of my favorites: squid on a stick. It's tossed on a grill, then dipped in a firey sauce. SO GOOD.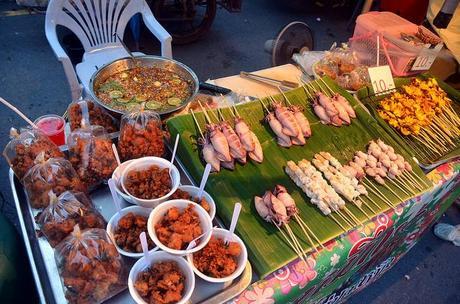 This little girl's dramatic excitement while she waited for her cotton candy was absolutely irresistible.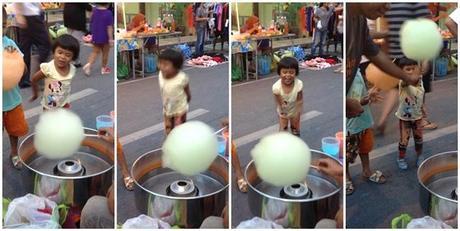 Our crew was a little more droll but happy for their share!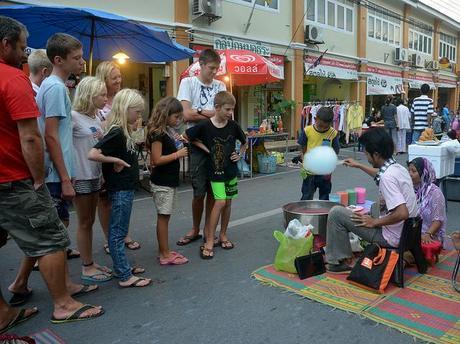 The night market isn't just food: the girls found a craft project, painting plaster animals….entertainment and a great memory for 20 baht (about 70 cents) each.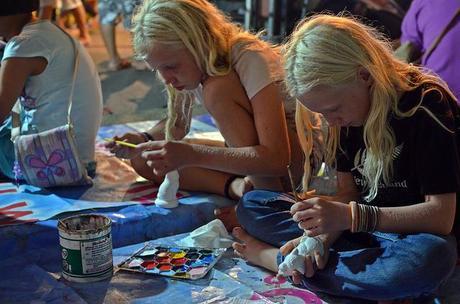 I was up at dawn the next morning to walk to the public market, just a few blocks from our guesthouse. They're always best in the early hours. Most goods arrive by truck, but there were deliveries from boats on the adjacent river, too.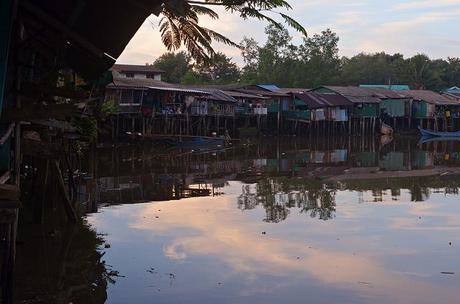 Gorgeous produce. No idea what the green thing with red seeds is called. The purple tubery things are banana 'hearts' a flower at the bottom of a banana stalk. Great stir fried! Those little green globes next to it? Eggplants, each about the size of a grape. And then, there are the bugs again. I'm going to pass on them this time.



So much to see in a market. I love this cat, stalking the fish vendors.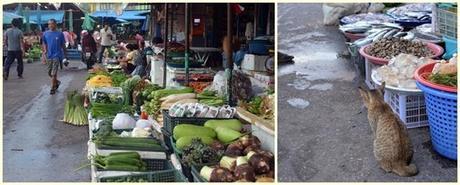 Still life with pig.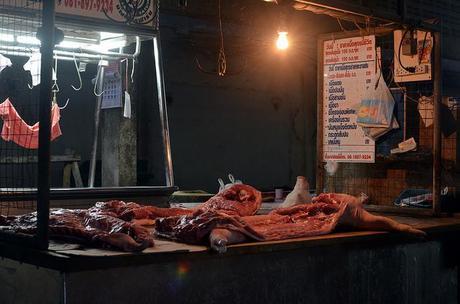 And chickens.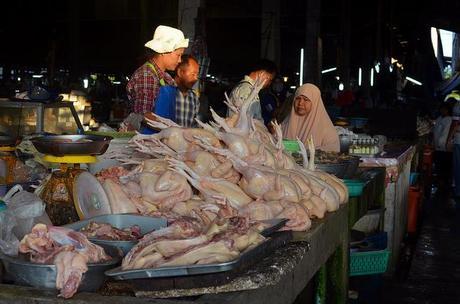 Breakfast came in many courses. First: a rice porridge with soft boiled egg, a little chicken, and lots of ginger and spring onions.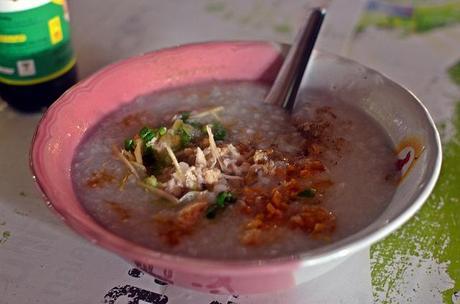 Of course, you have to decorate it with the sweet (sugar) – spicy (chili) – sour (chilies in vinegar) triumvirate first. YUM.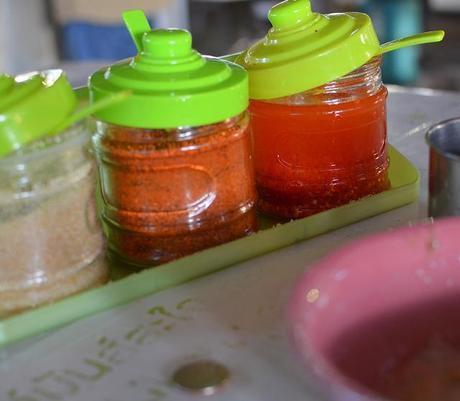 I went back later with the rest of the crew. We indulged in delicious hot roti, sweet tea, sticky rice, and big plates of pork and rice for the boys. I wasn't sure I should splurge on the pork & rice at first, because it cost five times as much as anything else- then I remembered it was still less than $2. OK!
This vendor wouldn't let me pay for my few spoonfuls of green curry paste. Another insisted on giving me fruit. Sights and smells near overwhelm, but it's the kindness that overpowers everything.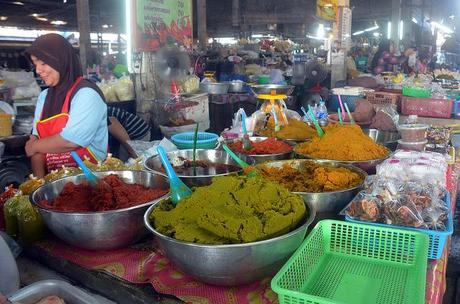 When I carried my little bag of green curry paste down an aisle, a woman created the perfect bundle of vegetables and aromatics to make an excellent curry, for just pennies. Banana tree stem, turmeric root, Thai basil, ginger flower, lemongrass, lime leaves.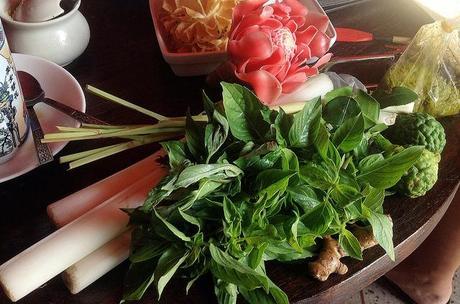 Her shirt proclaims "Love the King". Thais have a reverence for the king that is both impressive and impossible for me to understand.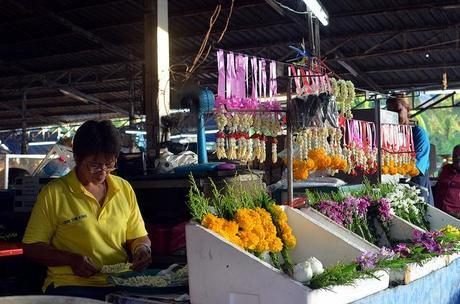 Other advantages of early morning walks: tailing the monks, taking their begging bowls out for daily rice.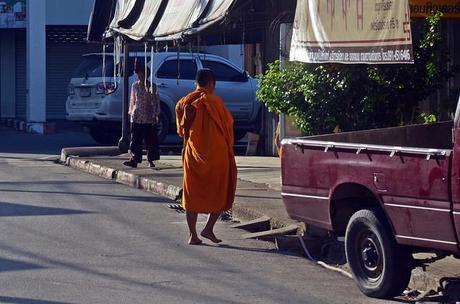 24 hours in Thailand. The only evidence of the coup? A glum looking group of guys in camo (with some very large guns) greeting the ferry when it arrived. It was a little intimidating at first, until one of them snuck out his phone to snap photos of the gringoes. We're good!
Happy travelers know we love it when you read this on the Sailfeed website.