The venerable Carnegie Hall has a different flavor next season.
by
Paul J. Pelkonen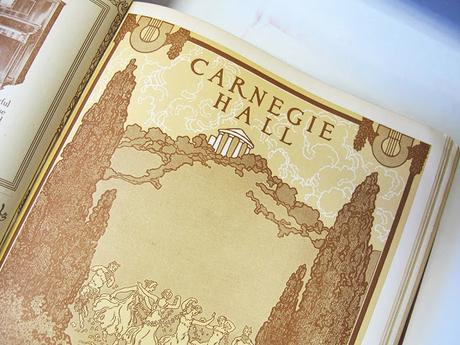 The muses dance in an early program book for Carnegie Hall.
Image from the Carnegie Hall Archives.
The announcement of Carnegie Hall's mammoth season schedule is always an occasion for celebration. This year's press conference, held upstairs in the Resnick Education Wing introduced an unorthodox slate for next year. The new schedule has programming from familiar orchestras and ensembles but one gets the sense that, like '16-'17, that this is an experimental season trying to push the venue in some bold new directions.
The differences start with next year's
composer-in-residence
, holder of the Debs chair. He's
Chris Thile
, a mandolinist, American folk music expert and host of NPR's
Live From Here
(the radio show formerly known as
A Prairie Home Companion
). Mr. Thile was one of the the special guests at this year's announcement, an edgy and energetic presence who listened appreciatively to each musical excerpt during the presentation and made his own musical enthusiasms clear in a brief interview with Carnegie Hall executive and artistic director Clive Gillinson.
Next year's festival initiative is
Migrations
, an in-depth exploration of the effect of immigration on American society. This timely idea will chronicle the arrival of the Scottish and Irish to New York and elsewhere, the influx of Eastern European Jews (with a focus on the importation of Yiddish theater and how that led to the Broadway musical) and the great exodus of African Americans northward from the Southern states.
The season opens with
Michael Tilson Thomas
and the
San Francisco Symphony
offering an evening of Gershwin and Bernstein show tunes with Renée Fleming and Audra MacDonald as special guests. "MTT" returns throughout the season as one of two
Perspectives
artists, leading four different orchestras including the
Vienna Philharmonic
and his own
New World Symphony
.
Here are ten absolutely essential concerts and programming blocks in the new season, presented in chronological order. They were selected by
Superconductor
after too many cups of coffee:
The first big concert of the year features tenor
Jonas Kaufmann
, the smoky-eyed singer whose penchant for canceling is almost as revered as his portrayals of Wagner and Puccini heroes. On Oct. 5, the singer takes a break from his appearance at a local opera house (we're not going to tell you what opera he's in until next month but suffice it to say that it's not
Fledermaus
) to push his new album
You Mean the World to Me
, a collection of tunes from 1920s German operettas. With the
Orchestra of St. Luke's
.
Sir John Eliot Gardiner
and his
Orchestre Révolutionnaire et Romantique
bring a sharp edge to famous and unfamiliar works by Berlioz, the
Enfant terrible
of 19th century French Romanticism. From the well-known
idée fixe
of the
Symphonie fantastique
to lesser known masterpieces
Harold in Italy
and
Lelio
, these are two essential concerts.
On Oct. 24, Dutch pianist
Ralph van Raat
makes his Weill Recital Hall debut with a finger-busting program: a new work by Louis Andriessen, Charles-Valentin Alkan's
Symphony for Solo Piano
(just as difficult as it sounds) and the Carnegie Hall premiere of Pierre Boulez'
Prelude, Toccata and Scherzo.
. Yikes.
The very next night,
Pierre Laurent-Aimard
and
Tamara Stefanovich
offer the American premiere of
Keyboard Engine
, a "construction" for two pianos by the ever-innovative English composer
Harrison Birtwistle
. At Zankel Hall.
And if that's not enough, Perspectives artist
Yuja Wang
starts her series on the 26th of October (wow what a week for piano music) playing
The Rite of Spring
accompanied by four, (count 'em 1-2-3-4) percussionists. She also offers performances later in the season with Leonidas Kavakos, Gautier Capuçon and the irrepressible comedy team of Igudesman and Joo.
December 1 offers Julia Wolfe's
Anthracite Fields.
This "coal cantata" is an extraordinary oratorio that chronicles the pain and suffering of coal-workers in eastern Pennsylvania. Winner of the 2015 Pulitzer Prize for Music. Here's a trailer:
Bang on a Can - Julia Wolfe's Anthracite Fields Recording
from
Bang on a Can
on
Vimeo
.
The iconoclastic
Ivan Fischer
brings th
e Budapest Festival Orchestra
back to Carnegie Hall for two evenings of music (April 5-6) by his countryman Bartók, who used to live right down the street from Carnegie Hall. Highlights include
Duke Bluebeard's Castle
in all its bloody, gas-lit glory.
On April 14, the Handel series at Carnegie continues with the marvelous and light-hearted comic oratorio
Semele. The English Concert
plays under the careful guidance of baroque performance deity
Harry Bicket
. Brenda Rae sings the title role and Elizabeth DeShong is Juno.
The
Teatro Regio Torino
is back on May 19 under the baton of Gianandrea Noseda. This Italian opera orchestra takes on one of the biggest and most rarely heard Verdi scores:
I Vespri Siciliani
("The Sicilian Vespers") with Angela Meade as Elena. Originally written for the Paris stage, this five-act grand opera died a bloody death when French audiences found out that their countrymen were the victims of the Sicilian massacre at the end of the work.
At the very tail end of the season on June 7th 2019, the
Philadelphia Orchestra
and
Yannick Nézet-Seguin
will offer an extraordinary rarity: the
Symphony No. 1
by Russian composer Serge Rachmaninoff. This work is so rarely performed that the New York Philharmonic gave its first performance of it in...2015. On the same program, the orchestra offers the rare Stravinsky juvenilia
Funeral Song
(written for his teacher, Rimsky-Korsakov and only unearthed recently) and young Beatrice Rana will play Prokofiev's
Third Piano Concerto