Dates: September 18-30, 2017
Locations: Different Cities all across Canada
Ottawa, Ontario - September 18 (7:00 PM) at James Street Pub (390 Bank Street)
Kingston, Ontario - September 19 (7:00 PM) at the Toucan (76 Princess Street)

Peterborough, Ontario - September 20 (6:30 PM) at Champs (203 Simcoe Street)
Vancouver, British Columbia - September 20 (7:00 PM) at the Royal Canadian Legion No. 279 (2205 Commercial Drive)
Kelowna, British Columbia - September 21 (6:00 PM) at the Creekside Pub & Grill (3929 Lakeshore Road)
Toronto, Ontario - September 21 (7:00 PM) at Betty's On King (240 King Street East)
Halifax, Nova Scotia - September 22 (7:00 PM) at Your Father's Moustache (5686 Spring Garden Road)
London, Ontario - September 22 (6:00 PM) at Fox and Fiddle (355 Wellington Street)
Thunder Bay, Ontario - September 27 (6:30 PM) at the Lakehead University Outpost (955 Oliver Road)
Calgary, Alberta - September 28 (7:00 PM) at the Unicorn Super Pub (223 8th Avenue South West)
Edmonton, Alberta - September 29 (6:30 PM) at the Metro Billiard Pub (10250 106 St North West)
Niagara, Ontario - September 30 (6:30 PM) at Fresco's Euro Bar and Grill (100 4th Avenue, St Catharines, Ontario)
Registration: Each group has its own RSVP page where you can reserve your spot, and chat with others that are attending that event (see links in the list above).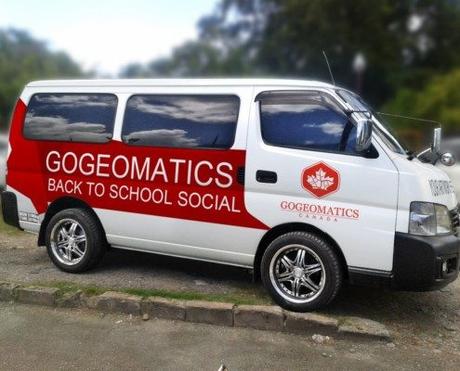 Mark your calendars and plan to welcome the next generation of Geomatics Specialists. For many this is the first time they get to interact with professionals in the GIS industry. The GoGeomatics socials are fun free networking events run by the community.
We have always been big supporters of the GoGeomatics networking socials (perhaps partly because we helped GoGeomatics start their first group in Ottawa back in 2010) because GoGeomatics has been able to fill a void that many professional organizations have yet to do.
This will be the 4th year that we have sponsored the annual event and this year will be attending 5 of the 12 socials taking place in September. So joins us for this years Back to Socials, we will be attending the Ottawa, Kingston, Peterborough, Toronto and Halifax Social events. Hope to See You All There ...