2016s National Day celebrations beckoned, I didn't want to leave China for that holiday because my passport only had limited pages remaining. I had decided upon Shandong's Qingdao and Jinan city's for the seven day holiday, I would return to England during the following summer so a new passport would be in order. Ready for the beer in Qingdao, I knew nothing about Jinan!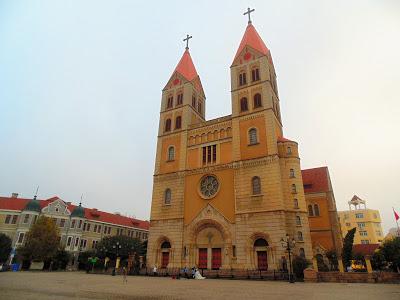 Flying up to 青岛 from 武汉 was easy breezy, I even saw one of my students at the airport before our respected flights were called! In the center of Qingdao's old Germanic city quarter, formerly managed by Germany, I was going to see some similar European architecture in Qingdao! Settling into my hostel for the first day, the seafood offerings had me eating some lovely fried fish! Needless to say the German connection in Qingdao meant that it's a city that is famous for beer! During the time the German Concession existed in Qingdao, the city fostered a liking for a good old pint of their very own '青岛啤酒!' Braving the rain on the first day I went to the Qingdao Beer Museum, at the former brewery I was schooled about Tsingtao! The brewery itself had been founded by the German settlers in 1903, along with the Japanese it was apparent 'Asahi Beer' had also been brewed in the same brewery! After my visit to the beer museum I ate a bucket of calamari with a colossal amount of 啤酒, the taxi back to my hostel saw me boozed up!
I didn't want no bars but I did go to one place for some day drinking along the beer street near the Tsingtao Beer Museum. Being cheap I had chosen to stay in a hostel, it wasn't a bad place but the social facilities were somewhat lacking. Making the best of the location I settled on four places for the two days I would be spending in Qingdao. I wanted to do things at my pace because the previous National Day week I was the guest in Chongqing. Not bitter but I prefer solo travel. Getting up earlier than the birds, I found a silent and still St. Michael's Catholic Church, those perfect undisturbed views reminded me of 2020s state of lockdown! Chinese newly weds loved the European style, they would have their photos taken outside of the church to have a bragging right even though no religious connection existed. I went back to the church later on that day to see the inside, those National Day crowds had me feeling some kind of way. Qingdao that took me there, I knew little about Shandong Prov, it was a learning experience!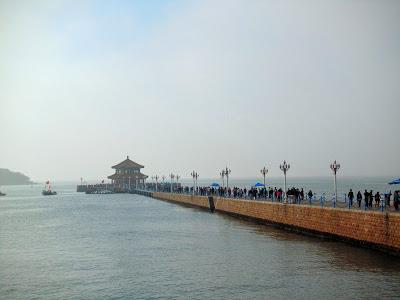 Choosing to spend two and a half days in Qingdao before going to Jinan was the right thing for me to have done! On the second day I rose early on, heading down to Jiaozhou Bay in the heart of the former German Concession area, I was able to see the Zhanqiao Pier. I walked along the pier to find a couple of guys from Qinghai and Tibet who wanted their photo taken with me, I don't like posing for those kind of photos because after being asked numerous times the novelty disappears. Anyhow, I had a good look at the vista that looked over the Yellow Sea. At the end of the pier there stood a small pavilion, known as the Hulian Pavilion. The pier had formerly been used as a docking point for the many beer related vessels that would be linked to the famous locally brewed Chinese German beer. The October weather had turned temperatures up, the sunshine finally shone because the previous day had been awful with European style rain showers! With only a small coffee for breakfast, I was already thinking of my first beer! Yes! 
I decided to walk to the iconic May 4th Square monument, some four miles by foot I thought that the scenic walk along the promenade roads would be great! I saw some buildings that had me tripping, was I in Germany or China? Crazy! Finding a shop that had a beer pump, I didn't opt for the bag I had a takeaway pint instead. Walking a bit further, I loved the greenery along the way as I made my way ever closer to Qingdao's May 4th Square. Another beer stop was mandatory, people looked at me as I drank my second beer of the morning with amazement, I wasn't mad with it! Being close to the sea and the sand felt great, Wuhan is a landlocked city with the Yangtze River and its many lakes but with no sea shores! Making it to Qingdao's May 4th Square I made no mistakes, getting my photo of the towering red modern looking monument had to be done. Feeling hungry I found a huge shopping centre, during that time I didn't use AliPay, so I wasn't able to order any of the food options! What was I thinking? Oh!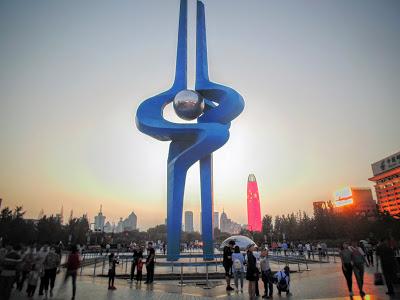 Taking the high speed train from Qingdao to Jinan took me less than three hours, I found my hotel without any issues because it was just off the Quancheng Square. Known as the 'Spring City' in this 2020 instance it was easier for me to remember the Chinese name for the square that imposed a dusk impression of the city in 2016. Talking about dusk and the night time, it was a known fact that I hadn't found a bar in Qingdao because I was more about the sights, in Jinan I wanted both! Resting on the first evening for what reason I don't know? Crazy! After going to Baotou Spring on the first day I caught a little bar along the river that was down some stairs, I went back there later on to find what was good? Having a few drinks beside the river in Jinan was ace but I was looking for something on the underground side, I knew what I wanted! Having already made an encounter of a certain kind the previous day, I just wanted to drink and have a good time! Consulting my app, I had an escort momentarily! Yes, I knew what I was doing! 
My nighttime guide directed me towards my hotel, had I been sitting on a secret nightspot all the time whilst I was in Jinan? Quite that! Located behind my hotel a few streets down, I stood in the middle of a residential estate that had a really normal feel to it. Recognising the Tsingtao logo, I followed my willing guide down the stairs of the bar that now I can't remember the name of. It was apparent it was an underground Gay bar, I knew that I had found the right place because I could sense it was a 'safe place', even safer because people probably didn't know it existed? Drinks bought and half consumed, it was time for the curtain to rise. A stage had been revealed to me! I was about to witness my very first drag show in China ever! I'm no performer, the local queens committed to their art even though their costumes and wigs looked well used. The experience was totally unexpected, like with many cities that are under the radar, a certain flare can be found! I went back the following night to see another show! Ji's queens served!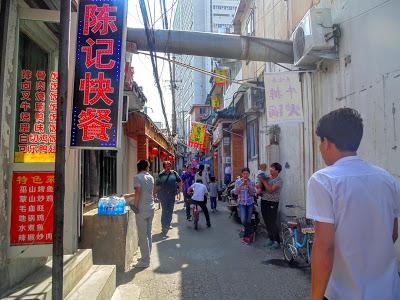 Being the founding week of the People's Republic of China, its common for cities across the country to get horrendously busy! Getting straight to Baotou Spring was the plan! No matter the grounds I managed to get my photo, aside from the pandemonium I took the positives from the visit. Furong Ancient Street was far too busy, I somehow randomly found 

Xichenggen Jie. 

Xichenggen Jie showed itself to me without discrimination, the alley way was made up with a selection of food options. I found a pork restaurant that served me a hearty lunch. The previous evening I had made to the city's Spring City Square, one of the office buildings in view of the square showed me a brightened projection of the Chinese flag. Back to the second day, I had been to the spring and for some food, did I want to check out Daming Lake? I saw Daming Lake at arms length because I wasn't about to pay money to see a body of water when at the time I could see Wuhan's East Lake for free! Jinan amazed me, I wasn't in my feelings though. 

The drag bar had left me feeling suitably dead after my first night out, thankfully my hotel was comfortable! Getting out of my hungover state, I gave myself one task and was to climb a mountain in my fragile state! What was I actually thinking? Joseph, you crazy! Getting to the Thousand Buddha Mountain was the one, by some miracle I powered my way to the top of the mountain! I decided that I had got the point that didn't scare me too much, taking a wrong turn as I tried to go down a bit lower had me fearing for my hungover living life! Ay dios mio! Getting back down on track, the golden buddha was in sight, quite literally I was looking out for the colour! Getting my photo, I vacated the mountain area to find some Lanzhou Noodles. After resting up, I decided a few liveners would perk me up for the night ahead! I've curbed my drinking a little bit before flight nowadays but during that 2016 trip I saw fit to get back to that drag bar for a good drink and a show! Jinan and Qingdao gave me everything, it was golden! 

Into the Night...

Joseph Harrison